Joe Frank Higdon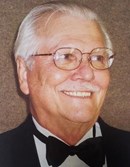 Born in Savannah. Georgia on August 8, 1931
Departed in Melbourne, Florida on January 21, 2019
Joe Frank Higdon was born in Savannah, Georgia on August 8th 1931 to Samuel Sawyer Higdon and Belle Hughes Higdon. He graduated from Hillsborough High School in Tampa where he was the drum major in the band. He served in the Marines in Korea. He attended the U of Tampa.
He worked as office manager at Bass United Fire and Security in Pompano Beach.
He had a quick wit and an unforgettable smile. He loved music and played drums in the Melbourne Municipal Band, Swingtime and Oh Golly Dixieland Band. He followed the Gators and the Dolphins.
Predeceased were sons Blair Higdon and Cory Miller. Survived by wife, June Milton and children; Brad Higdon, Susan Higdon Moore, Karen Vickers (Buddy), Margaret Spadafora. Grandchildren; Alexa Moore, Danielle Duchaine, Kristen Duchaine, David Sean Case (Michelle), and Tiffany Case.
Services at Holy Trinity Episcopal Church, Sunday February 3, 2019 at 3:30pm. In lieu of flowers, please give donations to Holy Trinity Chapel restoration fund.