John A. Robinson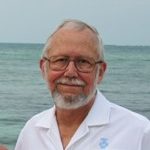 Born in Goshen, IN on April 30, 1933
Departed in Palm Bay, FL on April 2, 2018
John A. Robinson, ("Al" or Robbie") of Indialantic, passed away peacefully at the age of 84 on April 2, 2018. Born in Goshen, Indiana in 1933, his family eventually relocated to Alabama where John attended Auburn University and became a life-long War Eagle.
He served as a radio operator in the Korean War, before becoming an engineer for the Space Program, working on the Mercury, Gemini and Apollo programs, where he was awarded a "Silver Snoopy" by the astronauts for his service. John joined RCA (later GE) in 1973 as a Test Conductor for the AUTEC project on Andros Island, Bahamas where he remained for 20 years.
Throughout his life he maintained a passion for theatre; both acting, directing and working behind the scenes for Indian River Players and Melbourne Civic Theatre. His final years were spent indulging his life-long love of movies, volunteering at various theatres, The Maxwell C King Center, Daily Bread and Holmes Regional, and donating to Democratic and animal welfare causes.
John is survived by his wife Judith, daughters Laura Slider, Amy Robinson-Klucher (Matthew Klucher), and Donna Robinson; grandchildren Ryan Slider, Jacob and Riley Klucher, his sister Virgina Coogan and nephews Dan, Dave and Jim.
In lieu of flowers, the family requests that donations be made to Southern Poverty Law Center, Tiger Haven Sanctuary or Hospice of Health First. A private internment will take place at a later date.