John Harmon MacNeill & Margaret Elizabeth Benedict MacNeill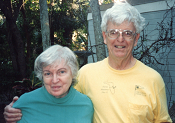 John Born on October 27, 1919 in Honolulu, Hawaii
Departed December 19, 2016 in Indialantic, Florida
Margaret Born on June 11, 2021 in Woodside, Silver Spring, Maryland
Departed February 21, 2022 in Tampa, Florida
John H. MacNeill, 97 passed away December 2016 peacefully at home with family by his side. His wife of 69 years, Margaret (Maggie) was holding his hand. He was born in Hawaii and grew up in California, graduating as a Mechanical Engineer from Berkeley, Sigma Xi, Tau Beta Pi, Phi Beta Kappa, Magna Cum Lada, and was described by Professor Boelter as the brightest student he'd ever met.
During WWII he served in Army Ordnance. In the South Pacific he built a gas-powered dishwasher for the mess hall earning him access to lots of food. He built a diesel-fired burner for a truck-sized water heater providing hot showers for many.
He met and married Margaret in 1947 and worked on the nuclear airplane project for Fairchild in Oak Ridge. 1949-50 he worked for Raytheon in Mass. designing an innovative cooling system for the RAYDAC computer.
In 1950 he came to Brevard working on FLAC, the computer for the Eastern Missile Test Range. The FLAC crew, assembled by Charlie West, included John H. MacNeill, Steve Batchelor, Bruce Smith, Tom Holmes, Harlan Manweiler, Jim Allen, and Jim Bellinger. This same crew went on to found Soroban Engineering in South Brevard to build the world's fastest paper tape (300 characters per second) and IBM card (400 cards per minute) punches and readers (1000 cards per minute.) Soroban had 450 highly skilled employees.
Most of the same group later were Optical Business Machine (an optical character reader using a laser.) That lead to Florida Data Corp. building the world's fastest dot matrix printer (600 characters per second.)
John was a sports car owner and worked in Timing and Scoring for the Sebring, Miami, Palm Beach, and Daytona IMSA sports car races. He was an avid sailor in small, fast boats. He was a host for the 505-class sailboat Mid-Winter races held at the Eau Gallie Yacht Club. He was also a member of the Melbourne Yacht Club and several local computer clubs.
John was married to Margaret for 69 years. They have two children and one grandchild.
Celebration of life Friday, Nov 4th 1–4 pm at the Melbourne Yacht Club.
There will be a more detailed history with photos of John and Margaret posted in early November on 32903.org
Margaret was the second of five children born to Charles J. Benedict Sr., and Margaret Olds Benedict. The family lived in Silver Spring except for the years 1931-1936 in Orangeburg, SC, where Charles Sr. was able to find difficult-to-come-by employment during the Great Depression.
After returning to Silver Spring and graduating from high school, Margaret attended secretarial school, beginning work at the age of 17 in a downtown Washington, DC architectural firm. During much of World War II, she worked as a secretary at Walter Reed Army Hospital in Forest Glen, MD, then obtained what she was told was the dream job of every woman in town – secretary to the Editor of the Evening Star, one of the two major newspapers in Washington, DC. She held this job until she met and married John September 16, 1947.
Margaret became a genealogist at age 10, when she sat on a kitchen stool with paper and pencil, and asked her mother about the history of their family. Writing and solving family mysteries both became lifelong obsessions for Margaret, and as her children make their way through hundreds of boxes of letters, essays, 3×5 note cards, emails (yes, she printed the internet) as well as her diaries and journals, it has become clear that she essentially wrote down the events of her life in real time, and made sure that generations of family in the future will also have the stories and data of the history of their family going back 13 generations.
Almost as much as searching for her own ancestors, she enjoyed helping others find their own answers to family history queries, leading to her role in founding the Genealogical Society of South Brevard, and almost single-handedly filling the shelves of the newly dedicated genealogy section of the library with valuable references.
Margaret was an avid lover of classical music, and from December through May, every Saturday afternoon, she would be ironing, or cooking with a nearby radio filling the air with the sounds of the Metropolitan Opera's Saturday matinee performances.
From Margaret, her children learned lessons of kindness, forgiveness, gentleness and curiosity. She once spent weeks watching through the lens of a microscope the teeming lifeforms in a single drop of pond water. She would also keenly observe and document the life cycles of birds, lightning bugs and animals that populated the yard, which she kept trimmed herself, without fertilizers or pesticides.
After the death of her husband, Margaret agreed to visit her daughter in Tampa for a few days, eventually agreeing with her daughter that she would not be able to live unassisted in the family home again. As much as she missed her home, she made her daughter's home brighter, spending five beautiful years with her Jean, Jean's partner Mary-Kay, and her granddaughter Annalee Edwards. She passed peacefully around 3 in the morning Feb 21, 2022, the same time of day her husband had chosen his own departure, after listening to hours of her favorite music and receiving prayers and anointing from the hospice chaplain. Her last words were, "Amen. Thank you." The last words she heard were those of her daughter whispering in her ear, "You are dearly loved." And so she is.

3 entries.
This is a beautiful tribute to two beautiful people. I loved hearing that Aunt Margaret's started her genealogy study at age 10. ❤️ They lived such full lives. And we were just so lucky to be a part of that.
What a beautiful tribute to your parents, Jean! I also have a file of AM letters & emails, filled with family stories that I've tried to pass on to my children (and, face it, anyone who'll give me the time. The stories are that good.) One of my stories is that my Aunt Em was the first person I knew to use the internet - before it even had a name. It wasn't Apple or IBM back in the day (1988?) but Prodigy. I remember my mother, Margaret's younger sister, tieing up the phone line (remember dial-up modems?) to chat with her other Benedict sibs!
John and Margaret, May your soul rest in eternal peace. Thanks for being family and educating me on genealogy. Your stories (especially Return Johnathan Meigs) will live on forever. Until we meet again. Much love and prayers, Tim and Stacey (Olds) Marks.