John Joseph "Jack" Evans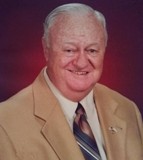 Born in Warwick, Rhode Island on July 23, 1931
Departed in Melbourne, Florida on December 19, 2018
John Joseph (Jack) Evans, 87, of Rockledge, Florida passed away on December 19, 2018.
Born in Warwick, Rhode Island, Jack was the eldest of five sons born to the late John H. and Irene (Flynn) Evans. After graduating from Cranston High School, he received his B.A. from Providence College in 1952, and did his graduate studies at Fairfield University in Connecticut in the late 1950's.
In May 1951, while a Junior at Providence College, Jack joined the U.S. Army Reserve (455th General Hospital) in Providence and continued serving in the Reserve until joining the Regular Army in April of 1953. A veteran of the Korean War, Jack served for three years in the Army's Counterintelligence Corps. Following his discharge in 1956, he joined U.S. Customs Service at Bridgeport, CT. During his 31-year career with Customs, Jack's other assignments included Providence, New York (JFK), Boston, Washington and Miami. He also served for seven years at over-seas posts in Vietnam, Indonesia, Guam and West Germany.
After retiring from Customs in 1987, Jack moved from Miami to Central Florida and soon accepted a one-year contract in Liberia (West Africa) as a customs expert assisting the Liberian Ministry of Finance until the end of 1988. He then returned to the workplace in Orlando, and later in Miami, as the customs administrator for a major international duty-free corporation until his final retirement in 2001.
Awards Jack received for his military service included the National Defense Service Medal, the Good Conduct Medal, and a Certification of Recognition from the Secretary of Defense. He was also a founding sponsor of the National Museum of the U.S. Army in Washington, D. C. In addition, Jack received the following professional recognition associated with his 31 years of service with U. S. Customs Service:
The Treasury Department's Albert Gallantin Award for meritorious service; the State Department's Medal for Civilian Service in Vietnam; the Secretary of the Treasury's Certificate of Recognition and Appreciation; two (2) Customs Commissioner's Letters of Commendation; two (2) Customs Superior Performance Awards; a Customs Special Achievement Award; a Customs Special Service Award; and a Customs Merit Performance award
Jack was a faithful Catholic and communicant of St. John the Evangelist Catholic Community in Viera, Florida. He was a member of the Association of Former Customs Special Agents, the American Legion, AMVETS and the Providence College Alumni Association. In 2014 he reached his 50th continuous year of membership in the American Legion. For this achievement, Jack was awarded a special service commendation by the Legion in a ceremony held at American Legion Post #0344 in Merritt Island, Florida.
He is survived by his loving wife, Kim, in Rockledge, Florida, sons John Evans of New Bedford, MA. and Timothy Evans of Gaithersburg, MD; daughters Catherine Sullivan, Lauretta Lyman, Patricia Butler, Cynthia Morse, Maureen Puglia and Theresa McElroy of Warwick, RI; brothers Robert Evans of Salinas, CA and Joseph Evans of Narragansett, RI. Jack was preceded in death by two brothers, William Evans of Glastonbury, CT and James Evans of Glendale, AZ. He is also survived by sixteen grandchildren and one great grandson.
A funeral Mass will be celebrated on Saturday December 29th at 11:00am in the St John The Evangelist Catholic Church in Viera, FL.

4 entries.
I am sorry for your loss, please accept my sincere condolences. I hope the family will find some comfort and strength in Jesus promise of the earthly resurrection(Acts 24:15)and the renewed Paradise earth, where death will be no more and no family will mourn the death of a loved one.-Revelation 21:3,4;John 5:28,29;Luke 23:43. may GOD(Psalms 83:18)grant you peace and comfort now, during this grievous time.-Matthew 5:4.
So sorry for your loss Terry. You and your family are in my thoughts and prayers.
our sincerest condolences to the family of mr.evans.we both know its always hard on the family to lose a loved one.
Cindy, Bob, Jake, Very sorry for the loss of your loved one. I know how much he meant to you. Although I didn't know him personally, he sounds like he was an amazing man. He walked many roads and accomplished much. For where your treasure is, there your heart will be also. - Matthew 6:21 You and your family our in our prayers for peace Lynne, Ed, Kiernan Habershaw