John Thomas Childs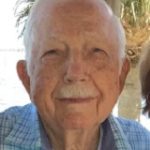 Born on March 10, 1931 in Brundidge, Alabama
Departed in Melbourne, Florida on March 25, 2020
John Thomas Childs, 89, of Melbourne, FL was born on March 10, 1931 to Rubin and Mattie Belle in Brundidge, AL. He died on March 25, 2020 due to complications from Alzheimer's.
John spent his childhood in Columbus GA. After graduating from high school, serving in the Air Force, he discovered his passion for engineering. The highlight of his career was working in management as an Aerospace Engineer at Lockheed Missiles and Space Corporation in California. During his 29 year career at Lockheed he contributed to major national defense space systems.
John was a country boy that loved spending time with his family boating, waterskiing, and traveling across America in his motor home. He was a family man with extraordinary talents for repairing everything from cars to computers. John loves Jesus Christ and was a member of Church At Viera
He is survived by his wife of 51 years, Betty Ann Childs; daughters: Judy Howard (Jim), Kathryn Homer (Robert), and Carolyn Hazen (Glenn), grandchildren: Melissa Franklin, Travis Gammon, Paul Gammon, Kate Homer, Nathan Homer, Lenny Costa III, Lane Costa, Luke Costa, and 7 great children. His son, John T. Childs, Jr. and siblings: Carol Amenta, Evelyn Flora and Bill Childs preceded him in death.
Memorials may be made to the Alzheimer's Association.
Roll Tide!
34 entries.
May God Bless You and Your Family and Keep His Arms Around You As You Go Through This Very Sad and Difficult Time~~Stay Strong!
May God Bless You and Your Family and Keep His Arms Around You As You Go Through This Very Difficult Time~~Stay Strong!
Susan and I regret the passing of John. Although, John and Betty were part of our CAV life group, we regret not having more quality time with them. In discussions with John you could clearly see the Spark of the Holy Spirit guiding his sweet nature and strengthening Betty as they navigated the difficult trials of Alzheimer's. John is happy now enjoying the presence of Our Lord where I am sure we will again gather together to praise our Saviour.
My good friend Mr. John I will truly miss you. The few months we shared meant a lot. We loved hearing your stories and miss your smile. The Mosley family want to say thank you and Mrs. Betty for allowing us to share in your memories. God bless the Child's family. Until we meet again in heaven, enjoy as our God say "Well done thy God and faithful servant".
Betty, I am very sorry for the loss of John. It was such a privilege to meet you, John & Molly too! I really enjoyed getting to know you both. My favorite memory is how much John enjoyed the music entertainment that we went to a few times. I will certainly miss our time together. Please keep the memories alive in your heart. I will keep in touch. My deepest sympathy to you and your family. Love, xo Debra
Love you grandad. Miss you a bushel and a peck.
Uncle John lived a very full and faithful life. He will be sorely missed, but remembered with love and admiration for his accomplishments and his family legacy.
I enjoyed the time we spent together having lunch and talking and also studying the bible together. John was a friend and very supportive. I know he's now in the presence of his Savior where there is fullness of joy. He will be missed!
I am so blessed to have known John. As a member of our CAV Life Group, I had the opportunity to get to knows John and to know him as a believer in Christ. As a fellow engineer, I loved hearing his stories about testing and launching satellites and finding out that when I was a young engineer I was involved in launching his final Satelite. John will be missed!
So sorry about your dad. I didn't know he worked at Lockheed! My grampa was there almost 40 years. Maybe they crossed paths. This is a hard time to lose someone and I hope you're doing OK. We miss you and all the gang. Demaris & Jary
My childhood memories of your dad were of his love of God and the outdoors (The Delta). He leaves an amazing legacy!
I'm so sorry for your loss, Betty it's exciting to know that John has met Jesus and is home. I know our Lord is holding you close. Praise Jesus!
I have fond memories of spending time with John and Betty when we all attended Santa Clara First Baptist Church. We spent times at youth gatherings with our kids and countless potlucks. I appreciated John's quiet, confident spirit.
May all of the wonderful memories live on in each of you. I am sorry for your great loss.
Some of my favorite memories with my Granddad included going out on his boat, swimming in the backyard, putting together puzzles, learning how to work on my car, and listening to stories from his childhood. I loved him so much and will never stop missing him.
My beloved Betty and family. I am so sorry for your loss. John was a great man! He had a wonderful life and family. Heaven is very lucky to have him now. He is in a beautiful new home and will be with our precious Father. My heart go out to you for your loss of John. Love, Joy Collins
My sincere sympathy to your family during this Valley. May the Love of our Father be your comfort.
Sending my love and prayers to you and your family!
John and Betty were both friends of ours from Mariner's Church, many years ago. They made us feel welcome right away. Our daughters Carolyn and Nichole became friends. Many fond memories of worship, visiting with John and Betty, dinners, bible studies and more. John was a good man and will be missed by many.
John was so smart, loved Jesus & his family, and the greatest smile. His memory will be in his family & friends hearts forever...and we know he's walking those streets of gold now, body & mind renewed. I pray for his family to feel some peace & comfort with that reassurance.