Joseph Frederick Santini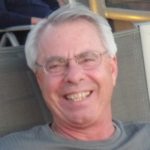 Born on July 13, 1951 Mount Vernon, New York
Departed on August 20, 2020 in Melbourne Beach, Florida
Joseph F Santini, age 69, passed away on August 20, 2020 at his home in Melbourne Beach, FL with his wife Cyndee holding his hand.
Joseph – Joe or Ricky as he was known to family and friends, was born in Mt. Vernon NY. He spent his early years in Westchester County, NY. His parents, Joseph Armando Santini and Maddalina Santini, divorced when he was young. Each parent remarried lovely people, Joseph to Delores and Maddalina to Ralph, who loved Joe as their own.
Joe attended Eastchester High School where he played baseball and football. He went on to earn undergraduate and graduate degrees in business from Iona College.
He had a long career in finance working on the east and west coasts until he met the love of his life, Cyndee, and settled in MA in 1992.
Joe was happy to retire in 2013 to pursue his second greatest passion – golf. His love of the game started young where he would caddy at the local course. He loved the game and was happy to play with anyone – as long as they had a good understanding of the rules and ethics of the game. Do not stand in his line! Or make noise, or play slow….He loved giving 'tips' to less skilled players and welcomed a challenge from players of better or equal par.
When Cyndee retired, they sold their home and moved to Bristol, NH to start a snowbird lifestyle. Renting one season in Melbourne Beach was enough to convince them it would be their winter home. Joe often said his two best days were the day he married Cyndee and the day he sold his snow blower.
Joe was a fierce loyal great friend who always had your back. He developed close friends through his life and truly believed "No friendship is an accident". He's always held a special love for his group of friends from Eastchester High School.
Joe loved the life he lived. While golf was his passion, he loved all music and could listen for hours. He loved to cook – Italian dishes the obvious specialty. He loved his boat and cruising to Cocktail Cove or doing 360 degrees of wonder around Newfound Lake. Most of all he loved his family.
He will be missed beyond measure by the love of his life Cyndee. He is already missed by his cat Fred. Joe's love, laughter and unique wisdom embraced the lives of his extended family. He will be lovingly remembered by his brother and sisters in-law, Charlie, Cathy and Paula; and his numerous nieces and nephews. He will be deeply missed by his brother Ray, sister Amy and his beloved Uncle, Enio Imperia.
A visitation will be held on Wednesday, August 26th from 4:00 – 7:00pm. A memorial celebration of life will be held in NH in the spring.
Please remember Joe as you choose. A donation to a charity of your choice or gather over a few cocktails in his name and reminisce. Either would make him very happy.
13 entries.
So sorry to hear of Joe's passing. Judy and I thoroughly enjoyed his and Cyndee's association while in NH. In particular. I always marveled at Joe's smooth golf swing and his inevitable comment of "be the right club" after he knew he had hit a great shot. I also recall his requirement that we celebrate with a shot from his traveling spirit case, once he scored a birdie. I'm just glad that he didn't make that many birdies each round. Our thoughts and prayers are with you, Cyndee. Bob & Judy Twombly
My best man. My best friend.
Joe all of your eastchester brothers We will Miss you ! From the radiator boys To pats to baseball And all great memories of our later years Too Joe we all have a million stories We love you Rest In Peace Squee/ rickie So sorry for your loss Cyndee John and Helene
Sincere condolences to Cyndee and family. Knew Joe only a short time as neighbor but his welcoming, friendly and helpful personality shone through immediately and warmed all he met. May he Rest In Peace!
We will miss you Joe and think about you on our weekly golf trips. Cyndee, so sorry for your loss.
We will miss Joe and his great golf game.
We will miss Joe from golf and every day. May he have a great golf game in heaven.
I'll never forget your fun loving attitude in life and your devotion to Cindee and her whole Family. You will be missed, Joe.
Rest in Peace Joe. 🙏🙏🙏🕯️🕯️🕯️
Cyndee & Joes' family we are very sorry for your loss. We were just getting to know Joe and really enjoyed his & Cyndees' dinner outings. Cyndee we are praying for you and hope you find comfort in the memories you and Joe shared together. Hector & Stella
He was a fiercely loyal friend and we will miss him.
Joe, I will miss your humor and your warmth. You were with us for too short a time.
One of my best friends for over 50 years.... I will miss him dearly... He guided me through life on many occasions... I loved him like a brother... See you in the afterlife Joe