Joseph Intravia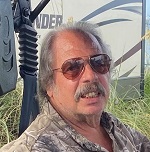 Born September 20, 1949 in Middletown, Connecticut.
Departed on January 18, 2021, in Palm Bay, Florida
Joseph was a native of Middletown, CT and graduated from East Hartford High School in 1967 and Pre Med at Providence College in 1971
He was predeceased by his mother Priscilla Allen, father Joseph Intravia Sr. a sister Maureen G Hill, and daughter Chintara Intravia. He is survived by Robert Christian and Melissa Christian with five kids, Adelina Torres. granddaughter, brother Rick Intravia of Hebron ct , nieces Madeline and Melissa Intravia and nephew's Mark Intravia and Richard Intravia jr.
Joseph loved to got fishing cruises on the water in his boat. Joseph and Robert would go camping for weeks at time in there camper on the beach.
A celebration of life well be held on February 20th 2021 from 1pm to 5 pm at Captain House off port Malabar, 1300 Bianca Dr NE Palm Bay, FL 32905
2 entries.
Sorry to have missed you, cousin! Your mom, my Aunt Pat, and my mom, Barbara, were step sisters. I now live in Palm Bay!!!
Love you pops. You are going to be missed so much.