Joyce Ford Bussendorf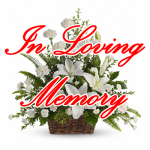 Born in Yardville, New Jersey on May 26, 1938
Departed in Viera, Florida, on June 17, 2019
Joyce Ford Bussendorf, 81, of Melbourne, FL passed away on Monday June 17, 2019 and was a retired secretary.
Survivors include her sons Kenny, Mark, Garey and daughter Lisa Ford, 11 grandchildren and 14 great-grandchildren.
A memorial Service will be held of Saturday, June 22nd at 10:30am in the Brownlie & Maxwell Funeral Chapel.
4 entries.
You will be missed, Grandma Ford! But we know you're in a better place. I can't wait to see you again one day. Love, Dan and Mallory
She will be missed. A truly sweet soul. Looked forward to seeing her at First Baptist & McDonald's. Heaven gained an angel.
It doesn't seem possible that you are gone too. You were a bright light to our family and will be missed dearly. I will always remember your beautiful smile. I know Heaven received an Angel. Love, Julie and Shawn
We will miss you mom. You are an inspiration, a guiding light to God himself. We are so thankful for the blessing of having you as a part of our family. Thank you God for bringing you into the Bussendorf clan.