Julia Ann Nail
Julia Ann Nail (Nutter) born to Kent and Sarah (Gainer) Nutter on November 17th, 1951. Julia was 71 years old. Julia (Jul) died of a cardiac arrest at Holmes Regional Medical Center on May 30, 2023. Jul's father was in the Air Force and her family grew up around the world being stationed in Paris, France and Stuttgart, Germany during her school years. While stationed in Paris, France Jul elected to go to a French elementary school and became proficient in the language; she was told she had a Parisian accent. At one point, her father had the option of being stationed in South Africa. Jul feared going to Africa due to the bugs and settled in Melbourne Florida instead. Julia was a beloved sister, friend, aunt and daughter; she will be very much missed. Jul was a loyal, impetuous, compassionate and caring person to others. In her self-effacing manner, she always put the problems of others ahead of her own. Jul graduated from Eau Gallie High School and then attended Brevard Community College. Jul worked as a draftsperson for RCA at Cape Canaveral.
Jul was married to Dennis Meehan and that marriage ended in an amicable divorce. Later Jul met the love of her life in Ronnie Nail. Jul became the step-parent to Ronnie's two children Bonnie and Cory Nail. Jul had her nieces Claire and Berit out to Nail Farms during the summers for many years and everyone enjoyed those summer trips.
No discussion of Jul would ever be complete without discussing her best friend for life Andrea Cross. They met in junior high infatuated with the Beatles and have been best friends ever since. Jul was the godmother to Angie's eldest daughter Brooke Barry and a close family figure to Angie's twins Bridgette and Patrick Barry.
Jul had a lifelong love of horses. Her first horses were plastic cowboy and Indian plastic toys. She threw away the cowboys and Indians and just played with the horse figurines. Her first horse was, "Skipper" and it was apparent they both loved each other. Jul always had a barn full of horses and that was a major part of her life. Jul was very active in 4H horse programs; she loved children. She had many lifelong friends as a result of her working with kids who grew up to be horse aficionados.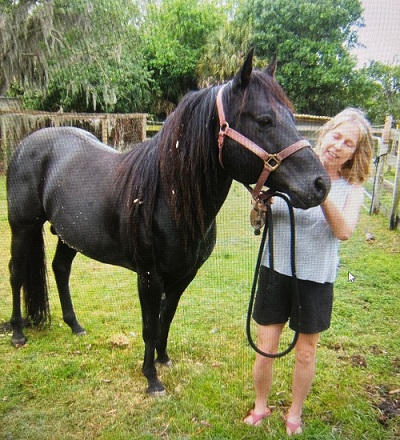 Julia was preceded by death by her father Kent R. Nutter and her grandparents Archie and Nina L. Nutter.
Jul is survived by her mother Sarah L. Nutter, brother Larry Nutter, sister-in-law Rhonda Hohertz along with her nieces Claire Nutter (husband Leon Dicks) and Berit Boyd (husband Andrew Boyd) along with her grand nieces Kathryn and Fiona Boyd. Jul is survived by her husband Ronnie Nail, stepchildren Bonnie Martin and Cory Nail. Jul is also survived by her chosen family of Angie Cross and her three children, Brooke, Bridgette and Patrick.
A memorial service will be scheduled between the middle and end of June, 2023 with Pastor Bruce Cadle. Further information on the date time and location of the memorial service with be forthcoming when that information is known.
Juli's Memorial Service will be 11am June, 20th at the Eau Gallie First Baptist Church, 1501 W Eau Gallie Blvd, Melbourne, FL 32935
30 entries.
Julia and Angie were so kind to my elderly father Charles Stevens On Fridays they would go to the family restaraunt on wickham road in Melbourne for breakfast.He looked forward to and enjoyed their company very much.They would call him Dapper Dan.Julia would always help others.May she RIP
Juli, Was a great friend and we went way back, When i first met her it was the late 80s, She was riding Skipper W, we met and I really looked up to her, she helped me a lot encouraged me to show my then Horse Cece, loaned me western clothes and boots so I could, I appreciated every bit of help she gave me. and helped me with a trailer to take my horse to the show, we could not get her loaded ,after several attempts, Deann Connor came to my rescue she had another trailer the horse would go in so we made it to the show even though i didn't place i loved the experience, i learned from her, I moved to Colorado and didn't keep in touch with her several years later, she was asking my sister about me, she was a wonderful person and would give you the short off her back, sweet and kind and loved her Family and Horses. I will never forget her.You rest in peace you will be missed.
Juli meant so much to many. She was always full of life and spunk and she deeply cared about people, animals, and issues. She had strong ethics and morals and she didn't hide them. I was lucky to be one of her 4-H horse kids and she became like a second Mom. She was also an important influence on me, almost like a Gloria Steinem figure, but with sweet and conservative values, too. I think there were many layers and depth to this beautiful and amazing woman. I know we are all missing our friend and still in disbelief about losing Juli. Until we see each other again.
Juli and I go back 30+ years. She was one of the kindest folks you'd ever want to meet. She was my daughter's 4H leader, and I shoed Juli's horses for years. The world could use more ladies like you Juli. You'll be loved and missed for eternity.
Julie, Today you were laid to rest. It's still hard to believe you're gone. We had alot of good times and memories that I'll always cherish. You were such a special friend and person. A friend to many, an enemy of none. Fly high my friend! Love you, Jewel XOXX ❤️🙏
Juli was my 'earth angel' she helped me and my family through some rough patches. She was the nicest person I have ever had the pleasure of knowing. Rest in Eternal peace Juli. Heaven has gained another Angel🙏🙏🙏❤️
Rest in peace my dear friend. You were truly one of a kind, you will be Miss by so many. We will all meet again someday. My condolences to family and friends.
Julia sounded like a wonderful person who uniquely touched the world and everyone in it. She shared her love for horses with children who will certainly miss her. God needed a new equestrian. Rest in peace and love.
I will always remember Juli's smile and her laugh. The 4-H horse program was a great part of her life and ours. Thank you for all the fun times!
I am so 💔 and saddened to read of Juli passing away way too soon. Being a friend & neighbor that lives across from the farm on TM, I would get my eggs & honey from her. She loved her horses , chickens, cats, birds, and was a free spirited lover of nature. We shared many conversations, and I know she adored her animals , friends & families. My sincere condolences to the entire families. I loved you Juli ,and you will be greatly missed by so many people, as well as All your pets. RIP Juli.
Jul was my friend and sister for our entire lives. Jul had a great heart and always wanted to be there for others. One could never have a better supporter than Jul. There will never be a replacement for her and there will be an empty spot in my heart.
"I will always cherish the wonderful fond memories of my first sister in law who treated me like I was her little sister❤️
Jul's beauty could be found in all the ways she touched and cared for those around her. The loving messages sent to friends, the cards written on special days, and the memory of smiles she created from tears. The times she showed up when no one else did and the invisible network of love, laughter and light she sprinkled across this planet without glory or vanity. That was Jul and she will be forever remembered by those who cared.
Ah, Juli. I will forever remember your sitting in the side room of Miss Bacon's classroom, drawing. Your love of horses was so apparent in the way you were able to bring out the delicacy of a horse's characters…it took the observers' breath away. I will always remember how gentile you were, loving, caring with every ounce of you. You knew no strangers. You brought smiles to everyone's faces and hearts. So, God has put you in charge of one of his ranches and is bringing your friends and family to to continue on…I'll see you again, your reins in hand, laughing……..
A friend of mine Andrea Cross introduced me to Julie The 2 friends for over sixty years who loved and never gave up on each other . Is the kind of relationship we should all strive for putting up with and agreeing to disagree and still loving each other regardless of indifference. May you rest with angels 😇 your angel on earth 🌎 will always remember your spirit
Juli was a one of a kind friend. Always there to lend a hand, ear, and a good word. She never talked to a stranger. I am sure the first thing she found in heaven is Skipper. Pretty sure she has not gotten off his back yet! I'll miss you until I see you again.
Juli, you left us too soon, friend to all who knew you, you'll be deeply missed. Deepest condolences to the Nutter, and Nail families.
Juli was a "jewel". She cared more about others than she did herself. She wanted everyone to get along. She was there whenever you needed something. She was a big part of the horse community in Brevard county and loved the kids and the horses. Thanks for the baby shower Juli, I will never ever forget how kind you were to me. 🌹❤️
We are so sorry for your loss. Juli was so sweet, generous and beautiful! She always had a kind word and a willingness to help anyone who needed it. She will be greatly missed! Love and prayers, Mike & Patty Brantley n family
Your loving heart and soul will be missed. And you were always kind and compassionate to all.