Julia Rose Kreutzer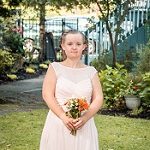 Born on May 4, 1995 in Buffalo, New York
Departed in Melbourne, Florida on April 23, 2020
Born in Buffalo NY, grew up in Holland NY. Julia loved school and participated in dance classes,ice skating with SABAH and horse riding while growing up. She recently moved to Florida with her parents and enjoyed the weather mostly because there is no snow! Julia was to young to go but she accomplished so much for herself by proving that she could do things that went way beyond what was expected of her, from school to her life experiences. She loved to travel,read, write,sing, learn to play guitar and just have fun. Julia came to us as a special gift and changed the way most of us that knew her for the better. She could make your day with just one of her hugs or even just her smile. Everyone she came to know and love will remember how she liked going out to celebrate anything and everything. She also loved her alone time too! We all are going to miss her but will hold her in our hearts forever. She is survived by parents Mike and Meg, Brother Nick(Olivia & Eva) Many aunts, uncles, cousins and dear friends.

20 entries.
Dear Kreutzer family, We just heard about Julia's passing. We are so sorry. Julia was a good friend . She made our class a happier place. I will miss her smile.
Dennis and I were saddened to hear the news. We are so sorry you lost such a sweet little girl way too young. Fly high sweet angel
Julia was a sweet soul she will always be in my heart.I will miss her smile at camp. May she fly high with the Angel's.
My thoughts and prayers are with you all. I'm so sorry that you've lost a bright light in your life.
Our thoughts and prayers are with you all. RIP sweet Jules ❤️
Our condolences mike and meg praying for you god bless
We are sending our love and you are all in our thoughts and prayers. Ms. Julia left us all with fond memories. Hoping those memories bring some comfort in the upcoming days. We are so sorry for your loss. Love, Kim & Alan and kids xo
You will be in our hearts forever. You had the smile ever?
So so sorry to hear about your loss. Way to young!
Meg & Mike, I cannot even begin to imagine. Julia was certainly a beautiful, unforgettable gift, and you gave her everything she needed to become the most wonderful spirit. I will always cherish the memories made in the years I was given to work with Jules. She will never be forgotten.
So sad this young girl, Julia is no longer with us, but she will be one of the sweetest angels ever! She will be missed by so many. Our hearts and prayers go out to her parents and family. RIP Jules?
Very sorry for your loss.
Julie was a very special young lady. You couldn't help but love her from the first moment you met her. Now she's a special angel watching over all that loved her. Our deepest condolences to the family
Heres to another beautiful angel above us. May the force be with you always ! Love you Jules
I'm so sorry for your loss. Sending prayers and love .
I Love You so much, you are my Jules. Words cannot express how much I will miss your beautiful face and you will be forever in my heart. Your cousin Devin James Loves you and will miss your wrestling matches. You are the most precious of angels and one day we will see each other again.
Heartfelt condolences to your family. Heaven just gained another angel.
I am so sorry for your loss, the "garage ghoul" will be sadly missed but always with us.