Julie Cusson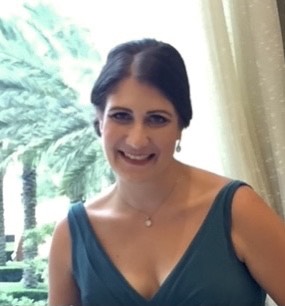 Born on May 19, 1984 in New Bedford, Massachusetts
Departed on March 3, 2021, in Melbourne, Florida
Julie passed away unexpectedly on Wednesday, March 3, 2021 at the age of 36. Julie was born in New Bedford, Massachusetts on May 19, 1984.
Julie was the daughter of Jerry and Debby Cusson. Julie was the most heartfelt, compassionate, and caring individual you could ever meet. If you met her once, you would never forget her infectious personality, sarcastic humor, and her love for a good back-and-forth debate. Julie was an avid reader and gifted freelance writer.
Julie leaves behind an amazing, beautiful, and talented 10 year-old daughter, Carlie, who is so much like her. She also leaves behind her beloved sister, Jenny Bradley, brother-in-law Rob and nephew Benjamin; Grandparents, Ronald and Joanne Hebert; Aunt, Donna (Jim) Schafer; Uncle, Steve (Dee) Cusson; Aunt, Joanne (Don) Aker; and Uncle, Leo Cusson. Preceded: Grandparents, Leo and Estelle Cusson and Uncle David (surviving Aunt Cathy).
Because Julie's favorite place was at the beach where she found solitude and peace, we will be hosting a Celebration of Life there in the weeks to come with invitations to follow.
In lieu of flowers or gifts, money may be sent for Carlie's college fund. If you would like to donate, please send to either of the following: Paypal at [email protected] or sent to Debby or Jerry Cusson at 2909 St. Mark's Ave., Melbourne, FL 32935.
17 entries.
On behalf of the entire Kelly's Burgers and Beer Crew, I would like to extend our sincere heartfelt condolences to the entire Family. Julie was a joy to work with and is dearly missed by us all. May she Rest Peacefully:
Debby, Jerry and Jenny, I am so sorry to hear of this loss-Julie was a dear childhood friend of mine and I have so many fond memories of her. You always welcomed me into your home and created fun experiences for us as kids-Girl Scouts was one of my favorite things as a young girl. Please know I am here for you all and thinking of you all during this time. Love and prayers to you all and sweet Carlie.
I am so sorry to hear this horrible news. We had so many fun memories growing up at Creel, and in girl scouts. May she watch down on her daughter and family always. 💓💓
My condolences to jerry and Debby cusson as well as the rest of her family. I know she was a a Patriots fan for years. And I remember her being loud. She was a good friend to know.
Julie was a passionate person full of pizzazz and intelligence. I will be forever in debt to her friendship and I know she is watching over her beautiful, charismatic daughter. She is survived by some of the greatest people in the world and I pray that all of her family find peace during this challenging time. Our thoughts and prayers are with you always.
May the God of all grace wrap loving arms around you, and may God's peace be with you as you grieve. Hugs, prayers, and tears I send to you with the sure and certain knowledge of the resurrection and that God's got Julie, and you too. Rest eternal grant her dear Lord, and let perpetual light shine upon her.
May your daughter Rest In Peace! Our deepest Sympathy to the whole Family. Karin and Dave Chapman (Neighbor)
Although I was not fortunate to meet Julie, I do know her mother, Ms. Debby, from work. I am truly sorry for the loss of such a young soul and send prayers and condolences to the family. God bless.
To all of her family I am so sorry to hear about Julie. I have great memories working with her for so long at Brevard eye center. I will continue to keep all of you in our thoughts and prayers especially her little pride and joy carlie. Rest easy my friend.
Debby. I can't believe it. No words are enough or justified. I enjoyed watching her grow up. Thoughts always.
To all of you, our heartfelt sorrow at the loss of Julie; I will miss her 'hi Mrs Showman' when she was walking Carlie to/from the bus stop each morning; a breath has been sadly taken away from our neighborhood corner. It was a blessing to watch Julie grow thru the years; it is a blessing to now watch Carlie, and to see the goodness she has instilled in her lovely daughter. May you all be filled with peace with the thought that she is happily at the beach.
I am so sorry to hear about Julie's passing. It was so great to see all of you when I visited Melbourne especially when attending Bruce's Super Bowl parties. Losing a child is a terrible thing to go through for your entire family. Somehow, you will all get through this terrible ordeal. My sympathies go out to your entire family and hopefully will see you all soon whenever the pandemic subsides.
Very sadden by the loss of Julie. She was always kind and supportive. I knew her inside and outside of work. We could lock eyes and immediately know what each other were thinking and give each other that all knowing smile and instantly the issue at hand was not so serious or actually comical that we'd later laugh about over lunch. She was the type of person even though you didn't see them every day, you could catch up instantly like it was yesterday. My heart and prayers go out to the family. Gone too soon love you Julie may you Rest In Peace ❤️
So deeply saddened to hear of your loss. Although I never met Julie, from what I'm reading she was one special person, daughter and mother. Please know that you and your family are in our thoughts and prayers♥️🙏🏼♥️🙏🏼 Rick & Regina Jalbert
Julie was a kind soul with a lot of life. It had been sometime since I have seen or spoken with her. I remember fondly the days of her working the front desk at BEC. She was a free spirit. May she Rest In Peace with the angels, until me meet again. I
Jerry and I would like to extend our heartfelt sympathies to your family. Please know that we are keeping all of you in our prayers. Julie will be remembered in all our hearts. Blessings to you all. Jerry and Joanne Madigan
Just does not seem real. Jerry, Debby, Jen, Rob, Carlie and family we are so sorry you've lost Julie. She was so special and a little bit feisty. It will be eternally sunny for you on that beach in the sky. 🌴❤