Katherine "Kay" Johnson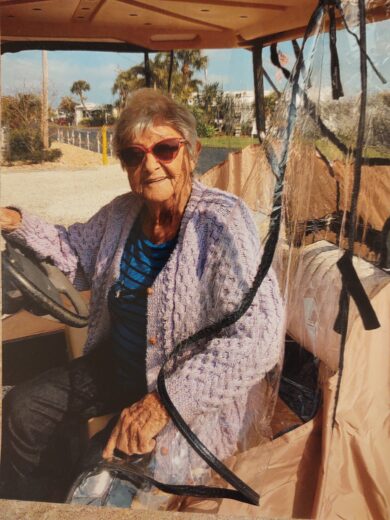 Born on June 18, 1924 in New York
Departed November 21, 2022 in Palm Bay, Florida
Katherine "Kay" Johnson, age 98, was a longtime resident of Palm Bay. Born on June 18, 1924 in New York to William and Katherine Herrell Johnston. She was married to James Johnson who passed on February 11, 2016. Kay passed on November 21, 2022 in Palm Bay, Florida.
She is survived by her daughters Katherine Guse and Jacquie D'Alessandro, sons-in-law Dick Guse and Joe D'Alessandro, grandchildren Serena Wray, Kendra Fogelberg, and Chris D'Alessandro, and great grandchildren Madeline, Maycie, and Arlo.
A private family service will be held when she is buried at St. Joseph Church Cemetery with her husband.
7 entries.
We will miss Kay. She was so much fun to be with. Her Italian dinners, bloody Mary's and silly jokes; are so much fun to remember. Loved her ❤️ ♥️
We are so sorry for your loss! We knew her best from Facebook posts, but she definitely was a lovely lady and will be missed. With deepest sympathy, The Bomboy's
You were so lucky to have Kay. She had a wonderful sense of humor. She always made us feel welcome. I remember the cruise we took with Jim & Harry. Lots of laughs. She will be missed by her family and friends.
Kathy, my heart goes out to you and your family at the loss of your Mother. I didn't know her, but I sure enjoyed reading about your adventures to Florida to visit her and the photos you have shared through the years. You have a wonderful family that I know you love with all your heart. May the many wonderful memories comfort you. You are in my thoughts and prayers. ♥️🙏♥️
May the hand of a friend always be near you and may God always fill your heart. ❤️🙏🏻
To be blessed as much as I have by her loving, caring and compassion was the greatest gift I have ever received. her empathy and wisdom to see and hear the heats of others was agiftgiven I have endeavored to pay forward in the gratitude of having her allowed me to have love and family. To me, she was angel sent to earth by above. Her caring and example is one I have made sure to give to others knowing what a gift she gave me and to honor her gift. My prayers and love to my " sisters" Jackie and Kathy Xxoo always.