KATHLEEN "KIT" FRANCES BOYLE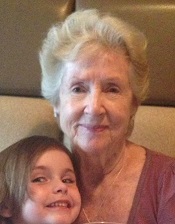 Born on August 24, 1930 in Killaloe, County Clare, Ireland
Departed June 13, 2022 in Indian Harbour Beach, Florida
Long time resident of Palm Shores, Kathleen "Kit" Boyle (nee Mulcahy), peacefully passed away on June 13, at the age of 91. Born in Killaloe, County Clare, Ireland, to Matthew Mulcahy and Mary Burke, Kit was the youngest of four children. She emigrated to New York City at the age of 22.
As soon she arrived in the United States, Kit entered the workforce. She worked in the field of retail in Manhattan. While she was working in a department store known as Arnold Constable, she met the love of her life, Charles "Charlie" Boyle. They married in 1959 and moved to the Bronx. Kit proudly became a naturalized citizen of her adopted homeland in 1960. Eventually, Charlie and Kit settled in Queens Village, New York. Here they raised their family.
When God granted her the gift of motherhood, she chose to be a full-time homemaker. Charlie and she raised their two daughters, Janice and Sharon. Together they provided a loving and stable home for their children. They stressed the importance of education and sacrificed much to provide their daughters with an excellent education.
Kit was a devout Roman Catholic. She was a long-time parishioner of Our Lady of Lourdes Church in Queens Village, New York. For over 20 years, Kit also worked at the Passionist Monastery in Jamaica, New York.
Once retired, Kit and Charlie loved to travel. They travelled all over the United States and Canada. They also enjoyed cruises to the Caribbean. Kit was an avid reader. She loved to spend her spare time reading by the pool in her yard. The joy of her life, however, was spending time with her granddaughter, Keira.
Kit was a very private person, but she loved her family. She preferred her own company but was very cordial and generous to everyone who had the pleasure to make her acquaintance. She was very much loved and will be missed by all who knew her.
Kit was preceded in death by her husband Charlie, her sister Nan Kelly, and her brother Matthew Mulcahy. She is survived by her sister Mae Lewis; her daughters, Janice Reynolds and Sharon Boyle; her son-in-law, Keith Reynolds; and her granddaughter Keira Reynolds.
Services will be held at Brownlie-Maxwell Funeral Home, Melbourne at 4:00 PM on Saturday, June 18, 2022.
.

2 entries.
Janice, I'm so sorry to hear about the passing of your mom. She was a wonderful woman and someone I truly admired and respected. My deepest condolences to you and your entire family… Sincerely, John
Dear Janice and family, I am so very sorry to hear of your mothers passing. It is always hard to loose someone from this life but when it's our mom the loss seems especially difficult. With a beautiful Irish name like Kathleen (also my moms name) she had to have been extra special! Know that she now rests in the arms of Jesus for all eternity. I'm sure she will be watching you from her heavenly home. Always remember to nurture her memory for Kiera. Time will soften the the pain you feel today but always remember that you will carry her in your heart until you meet again. My heartfelt prayers and condolences are with you. May Kathleen RlP.