Kathleen "Kitty" Hartzog Starling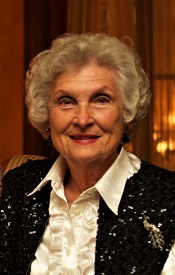 Born May 28, 1933 in Noma, Florida
Departed March 18, 2022 in Indialantic, Florida
How do you put into words the incredible impact, and influence, that someone has had on your life?
For us, that someone was Kathleen "Kitty" Hartzog Starling, our wife, mother, grandmother, and great-grandmother. It's an impossible task to convey all that she was to each of us and, though our takeaways varied, depending on our personalities, strengths, weaknesses, and interests, the loss we all feel is vast and deeply shared.
She was funny, self-deprecating, and incredibly creative. She was a talented, award-winning ceramist and a needlepoint expert, who made beautiful Christmas stockings for as many of her grandchildren as she could. She was a thoughtful poet and writer. She was the best garage sale curator in the history of the universe and was always on the hunt for good bargains, whether they were needed or not. She was the least lazy person we've ever known and a resourceful, powerful woman…a definite force to be reckoned with, and the fiercest defender of her family.
SHE WAS:
A lover of her husband, Warren, and their wild and crazy family. Their love story spanned almost 74 years, seventy-two of those as a married couple, and was enduring to her last breath and beyond. They began dating in 1948; when she was fifteen, and they married on July 29th, 1950. Together, they raised four children (Howard, Sandra, Susan, and Stacy), had twelve grandchildren, and eighteen great-grandchildren, to date.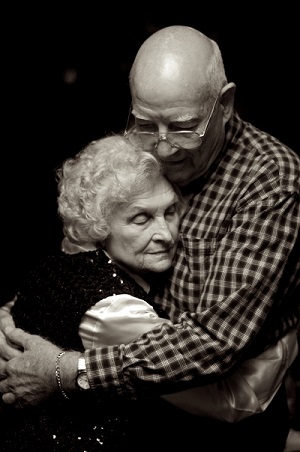 A lover of food and the most incredible cook of all things edible, including traditional Southern and authentic Chinese. She studied authentic Chinese cooking with Lily Tang, in Orlando, and then gave Chinese cooking lessons in our home's kitchen, while living in Satellite Beach in the late sixties and early seventies. Her cooking was so renowned, that she held quite a few Chinese dinners as fundraisers for Holmes Regional Medical Center, where she also volunteered as a Pink Lady. While conducting food demonstrations in the Burdines' kitchen department in Ft. Lauderdale, in the late seventies, she was on the cusp of being an instructional chef for a televised cooking show but, had to decline the offer because we were moving. She would have easily become the Julia Childs/Rachel Ray of that era. However, Mom's claim to family food fame was her always-requested-never-a-disappointment deviled eggs! They were a must at every family gathering, which always created a "supply and demand" issue; the demand always surpassed the supply…even when she'd make "extra" and hide them in the outside refrigerator!!
A lover of, and friend to, all living creatures (except snakes, those could burn in Hell!)!! Mom was the Snow White to Dad's Grumpy, she loved her dogs (Tiki and Kricket); one duck (Tina); forty-two generations of Sandhill Cranes (forever known as Grangers); raccoons, squirrels (she called them all Augie, after the first rescue); flying squirrels (also all called Rockie, after the first) who loved to burrow down into the cup of her bra and peek out like Gilroy; countless fish; a stinky ferret named Spike; and several cockatiels, lovebirds, finches, and a Quaker parrot named Alure. She even bought day-old bread and took doggie bags home from family functions to feed all the wild critters in her yard that, no doubt, will miss her almost as much as we will.
A lover of Alure's rescue story (explained here via modifications, with just a few embellishments, on first Dad's version of the story and then Mom's addition to his.). Mom loved cruising down Shingle Creek, hunting for abandoned lures (in order to protect birds from getting tangled up in the severed, and forgotten, fishing lines caught up in the tree branches); Dad was always happy to oblige! This was an adventure they shared with their grandchildren and anyone else that was fortunate enough to be invited to tag along. On one such excursion, Mom spotted a shiny lure! CHALLENGE ACCEPTED! As they worked to free the lure, Dad kept hearing squawking but couldn't see anything. When they began to back out into the creek, Dad noticed a green bird flying toward them and it landed on the boat's canopy. It was skittish and flew back up into the tree. They watched the bird for a little while and pulled in closer. Mom started talking to it and held her finger up as a perch. The bird actually looked like it wanted to come down and started slowly lowering itself from one limb to another; it was obvious that this was somebody's pet, which had struck out into the wilds and couldn't find its way back home. Dad reached up with the tree saw to no avail. He then tried climbing up on the boat fence, extending a bass net, but the bird was still not having it. Out of sheer desperation, Mom held the minnow net on one side of the limb and Dad put the bass net over it on the other and they managed to capture the bird. Of course, the bird got tangled in the nets, but they finally got it, more or less, free and into the bait bucket with the nets covering it for the ride across the lake and to its new home. Once Alure (aka the bird) was home and safely in her garage-sale-bargain cage (newly acquired, that very day), it was noticeably clear that she was glad to have her head scratched by all. She especially loved sitting on her shoulders to snuggle and was happy to sit on her perch with one foot and hold on to your finger with the other. Turns out, Mom's chosen name for her was apropos since she had been plucked from the tree branches just as they did for all their other fishing lures. So, what did they get out of the tree? A LURE…Dad protested, Alure was game for whatever…so, Alure she became. Dad's moral to the story: IF YOU BUY A BIRDCAGE, THAT YOU DON'T NEED, A BIRD WILL APPEAR…OUT OF NOWHERE…TO LIVE IN IT!!!!!!
A lover of working in the garden and landscaping her yard, and everyone else's. She loved to share her plantings with everyone, from mondo grass to Key Lime trees. There are more than a handful of authentic Key Lime trees in and around Central Florida thanks to her green thumb! She also had an unusual LOVE to head outside to pull weeds and gather up the felled Spanish moss.
A lover of every holiday, and we do mean EVERY holiday, which were always elaborately celebrated! Even made-up ones, like Teddy Ruxpin's birthday, whose party was held every year for all the grandkids to attend. With one of the biggest family holidays of the year, and Mom's desire to make sure that we always had a bigger…longer-lasting…more fun Christmas than anyone else around; her knack for colossal gift-giving eventually took on a life of its own! Her skills at being a thrifty shopper turned into giant boxes filled with a treasure trove of incredibly unique items for every one of us. The grandkids lovingly referred to these gift boxes as "Grandmommy boxes!" Always filled with thoughtful, unique, and practical items, the most treasured item in everyone's gift box, though intangible, was the tender loving care that simply oozed from each box, with the pure love that Mom had for her family. Mom would want you to read more here for a good laugh on her grandkid's perspective.Grandmommy's Gifts, When I'm Right I'm Right and Grandmommy's Gifts.
A HUGE lover of teddy bears, collecting hundreds, if not thousands, over the years. She shared them with everyone…the mail carrier, the trash collectors, cashiers at stores, and even dropping them off, on a regular basis, at the Ronald McDonald House in Orlando.
A lover of Charlie and the story of his plate…just from a flea market find in Webster (one of her favorite places to hunt for treasures), which tugged at her momma's heart so, that she simply couldn't leave the precious plate behind! Read about this serendipitous conversion of events, as told by our mother in, Guideposts August 2004, Volume LIX, Issue 6, Charlie's Plate by Kathleen H. Starling, included in chapter 9 of this hardcover collection of short stories published by Guideposts Magazine and available via Amazon,His-Mysterious-Ways-More-Coincidence, and this article from the Orlando SentinelComing Full Circle.
Honestly, a lover of so very much more…
We will miss your hugs, your endless stories, talking to you on the phone for hours at a time but, most of all, we will miss your smile, the sound of your laugh, and hearing you say, "I love you!"!
You were an INCREDIBLE human being.
You were BELOVED by all those you met.
You were the BEST matriarch to the Starling Clan.
You will always be LOVED.
You will NEVER be forgotten.
Sweetheart, Mom, Grandmommy, Grammy, GMa, GG…so many monikers, yet all representing the same loving heart. THANK YOU for your love, patience, resilience, laughs, and passion for life and your family. You, now and forever, will be deeply missed.
A private Celebration of Life will be held on Saturday, April 2nd at her youngest daughter's home in Merritt Island, FL with immediate, and extended family in attendance. In lieu of flowers, the family requests that donations be made to Donate – Cure Alzheimers. The family would also like to thank the staff at Generations on the Beach for their loving care in our mother's last days.

23 entries.
I have avidly read many great writers in my life who, with seeming ease, convey the clearest images, depth of human emotion, theological, scientific and other information thru written words. I confess to possessing none of those skills, yet am compelled to try and relieve great pain of mind, heart and soul that I feel at this time by setting down some thoughts that haunt my brain most every night. Four weeks ago and for days prior we were visiting Kitty daily. I usually went with our children or grandchildren and their families. She laughed, petted some puppies and enjoyed watching great-grandchildren playing. I tried to avoid thinking that any of these visits might suddenly be the last. She always held my hand closely, sometimes touching it to her lips and face. On one of those days as time came for me to leave, I leaned over her bed, told her I loved her so much, and we kissed goodbye. I said, 'if you still love me I'll be right back tomorrow'. She smiled, gave me a steady and so tender gaze with teary eyes, pulled my hand to trembling lips, and said 'all my life'. We kissed again, reluctant and sad to part hands as usual, but I said, 'goodnight sweet heart' for that day and, in this life, forever. It was March 17, 2022. She started signing cards, notes, letters and just scraps of paper to me with 'all my love all my life' more than 73 years ago. Now my feelings of loss and sadness are beyond measure. But by God's Grace, I know and am so very thankful that we were blessed to know the meaning of true love that never fades. Now one day in the not too distant future, God willing, I hope to hold her once again and say 'good morning my sweet heart'. Thanks to all for so many kind words of sympathy and understanding and joining me in celebrating her wonderful life.
There was never a dull time with Mrs Starling. I always swore she was psychic she always knew when I stepped off the tile on to the carpet….it was like my foot stepped on a Maaaarrrccceeeee button! I was introduced to her first flying squirrel, took 10 years off my life when it landed on me and her and Stacy were yelling don't hit it don't hit it… ME, " WHAT IS IT???" I got to know it real good when the alarm was set for us to wake up and feed it all night… I think that was my last sleepover. Jk Our late night lecture that wasn't meant for us. But we had to wait up for Susan to get it anyway. The amazing Chinese ribs that ive craved ever since she made them for me. She was always the grand finale to all my garage sales and we'd talk for hours. Or maybe she was just trying to get lower prices haha. I wonder who has the crocheted teddy bear blanket? Mrs Starling was always perfectly made up , a smile on her face and made you feel special and loved, Even more than her Tab! I was blessed to be welcome into the Starling house and friends with her daughter! God bless the whole family! My thoughts and prayers are with you all!
I love you I miss you Great Grammie. We will be making a beautiful garden for you. Easton
Thank you for sharing this wonderful obituary with me. I had several very brief opportunities to meet and "get to know" this wonderful woman that has meant so much to her family. I'm sorry to say that I did not make proper use of them. This is one of life's good lessons for me. I promise in her memory never to waste another opportunity to find out all the available information about those informally introduced to me at parties and family functions.
I wasn't ready to say good-bye to the most beautiful woman who ever lived. What I wouldn't give to see her one more time…her cute little smile, the funny faces she would make, feel the warmth of her sweet hugs and to hear her say, "I love you!" Everywhere I look there are memories of her, inside my home because of her generosity and the many things she gave me over the years, some made for me with her own hands and with lots of love, and also, outside in nature, flowers blooming, her "favorite tree" in my backyard, any living creature, as she loved them all. She was and always will be MY "Mommie Dearest," which I started calling her as an obnoxious teenager just for fun, but turned into a lifelong endearment because she truly was the dearest. She loved me unconditionally and completely and I will never be exactly the same without her. But, I will carry her in my heart forever and love her with all of my heart…just as she loved me. I miss you more than words can say, Mom. I pray I see you again in Heaven one day. That will be a very happy reunion. Until then…know you are greatly missed and very deeply loved. 🌸🙏🏼💝
What an honor it was to know Kitty for the last 14 years. She truly was a wonderful person with a huge heart of gold. I have such wonderful memories of her. I really loved her deviled eggs and looked forward to every delivery which was usually accompanied by something special for us that she found while going to garage sales. I remember whenever we could not locate her on the Alaska cruise we would inevitably find her and Chandler at the 24 hour ice cream shop eating cream cones! I will cherish my memories of the last year walking the yard and getting pointers on our landscaping or sitting on the back porch watching the dolphin, birds, boats, skiers, rockets and talking about her favorite tree ever...the Gumbo Limbo. I will never forget all the times that Grammie and Poopy sat together while Poppy fished on the end of the dock! I have sprinkled our yard with Crown of Thorne plants that remind me of her every day. Grammie I know I will see you again in Heaven in your renewed spirit!
I will always remember you and the love you always showed me and my family !! I will never forget you and Warren coming to Clay's baseball game at Kissimmee, and then spending time with you guys at the lake. You both influenced us both in such a positive and loving way. I will miss you and the way you showed love to me. Say a love filled hello to Levi and Freda in heaven. You are all such loving and caring people. Our love !!
We will miss your beautiful smile
For Warren Starling and his family, my friend and former colleague. Lieber Freund, I haven't yet experienced your loss, but I understand the depth of your sorrow. Excerpts from the sayings of King Lemuel … [that] his mother taught him (Proverbs 31): A wife of noble character who can find? She is worth far more than rubies. Her husband has full confidence in her and lacks nothing of value. She brings him good, not harm, all the days of her life. … She opens her arms to the poor and extends her hands to the needy. She is clothed with strength and dignity; she can laugh at the days to come. … Her children arise and call her blessed; her husband also, and he praises her; … Give her the reward she has earned, and let her works bring her praise … . With my deepest sympathy, Heinz
Grandma, I miss you each and every day. And have for many years. I'm sad for all of the things we've missed, in both of our lives, because of living so far away. But despite the distance you always went above and beyond to make sure I wasnt forgotten. The ONLY grandchild without an age buddy, but that was never a problem for you. You would make sure to give me extra hugs. Extra sweets. Extra attention. I have to say, of the things I miss most, are your stories of "Auggie," and all of his raccoon and crane buddies. I miss Our times spent together on the back porch. On the boat. In the bear room. Until we meet again, on the other side of the rainbow!!!! Love, your one and ONLY- Pink Turkey 💜
Grandmommy was a beam of light, and her smile was contagious! Her love for her family was evident. She had the best personality, sweetest heart, and was also very funny! I loved watching her interact with the great grand kids. The boxes at Christmas for all the kids were chosen specifically for that particular person and she really put thought into it. I only knew her about 7 years, but she was very special to me! Every time she came over to visit I loved sitting near her and just loved talking to her. It breaks my heart to hear Luke ask where she is when he sees Poppy, knowing they were always together.😭 She is truly missed so much already, and I wish I had one more day to take more selfies, hear more stories, and hear her laugh one more time! Love you so much Grandmommy! 😇
I have known the Starling/Besser family since I was a little girl. Kitty's granddaughter, Megan, has been my best friend since I was 5 and her daughter, Susan, was my 5th grade teacher. I've spent a lot of time with this family throughout my life and I've always felt like an honorary member of the family because of how warm and kind they have all always been to me—especially Kitty. She always made me feel welcome and let me know how special she thought mine and Megan's friendship was. The true measure of how special Kitty was though is evident by the family she raised and the kindnesses they have extended to so many. Sending love and prayers to the whole family.
Grandmommy, you're missed more than you probably realize, unless you were sitting in on your memorial day. There's a lot around the house that reminds us of you, from the bears you've given the kids (that they love) to all the random kitchen utensils you gave us when we were 5, because "you'll need them one day when we have our own house and family". 😉 Levi has said he is sad there's one less member of our family, he understands it more than I expected him to, you always did say he was a "smart booger". He drew a broken heart on the shower door that said "Levi + Gma" in it. Even the next generation is broken hearted over the loss. But I told him maybe you'd visit him. Love you.
Grandmommy, with your passing onto greener pastures I know the pain is over for you! I miss you so much and can't wait to see you again feeding the cranes and raccoons. I can't imagine the amount of gardening you're doing right now without the aches and pains! I'm sure your collection of bears is growing even more. I love you so much and will continue to think about you forever!! Until we see each other again.
Dear Warren and family, What a lucky day it was when we married and moved to Jacksonville, allowing us to reconnect with Vera and JB as well as you and Kitty! Visiting you and Kitty in Kissimmee was always the highlight of any trip to Orlando. Kitty was generous to share her thrift shops with me, and I always returned home with a packed car. It was never fun to go shopping at a mall—-but much more fun to find a bargain at a thrift store! (Do you think we share some of the same genes? I do!!) I always felt Kitty was a "kindred spirit" and I envied her artistic creative abilities. I will look forward to seeing her in heaven; perhaps there will be a few heavenly thrift stores for us to visit!! Much love. She is missed!🥰❤️🥰🙏Carol
Grandma, I hope you know how much I love you. A big part of me is missing with you gone. I see you in everything. The butterflies, the birds, nature. I'm beyond thankful for our memories, our talks on the phone. I could talk to you about anything. I really wish heaven had a phone. Until we meet again. I will hold you in my heart. ❤️ 🦋 🐻
Grandma, I will miss you so greatly. It hurts to even think about. You are a true gem. Think I had a visit from you a couple days ago. I will be thinking about you always. 🦋 I wrote you a poem. Take care sweet grandma. You will forever and always be in my heart ♥️
It's hard to put into words how much you and Uncle Warren mean to me and the impact you had on me during those summers spent down in Florida with Grandma and Grandpa. Your voice, the teddy bear room, the life altering experience of seeing and eating curly fries for the first time out on your patio, the admiration I felt for you and inspiration in the strength of your character will always be with me. I collect popsicle sticks and leftover McDonald's happy meal toys in a basket to dump out for my own kids now so they can use their imagination and create because of the wonder I can still feel when you did the same for me and Ian. Memories of all those warm evenings spent outside, listening to the cranes, and exploring the garden bring me so much comfort and a smile to my face to this day. These, and many more, childhood memories mean so much to me and are so plentiful but I'm also grateful for those I made with you as an adult. My heart was so full when I was able to host you and Uncle Warren at my very first home when you were passing through Alaska and later, seems like yesterday, when we were in the Dolomites in Northern Italy, drinking wine and celebrating life, achievements, and family. I just adore you Aunt Kitty, I always will. You and the memories made with you will live on in perpetuity in both mine and my family's lives. I love you.
What a lovely tribute to Miss Kitty! We first met her when we were looking to purchase the house next door to her and Warren's home. She was so enchanting and we immediately fell in love with her (and Warren, too!). It is one of the reasons we bought the house! We were so fortunate to get to know Kitty and to be her neighbor for a few years. She was a truly wonderful and unique person on this earth, and we will miss her greatly. Wendy Frey & Jeff Martin
Mom, to say I miss you is an understatement. You weren't just my mom, you were my best friend, staunchest supporter and my life long teacher. Everything I know, I learned from you and dad. You taught me how to be a good mother, a good wife and a good friend. You have taught me by example how to live well. You were so funny, fun, creative and just a beautiful person with a beautiful soul. Heaven is so lucky to have you. I love you more than I was ever able to show you or tell you, but I do love you and thank you for all you did for me! I love you now and always! 💕