Kathleen Marie Jagdmann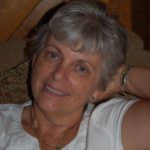 Born on May 3, 1946 in Detroit, Michigan
Departed in Melbourne, Florida on March 28, 2020
Kathleen Marie (Shea) Jagdmann
Kathy was born in Detroit Michigan on May 3rd, 1946 to Edward J. and Jean M. Shea. She is survived by her loving husband Ken Jagdmann, and her son Michael Jagdmann (Amy), daughters Dianne McAuliffe (Dan) and Theresa Miles (Jason). Kathy deeply loved her 9 grandchildren; Rhea, Nicolas, Morgan, Katya, Kendall, Alek, Dylan, Lucas, and Olivia. She also loved her two great-grandchildren; Liam and Quinn.
Kathy graduated from Mercy High school in Detroit and finished her nursing education at Mercy School of Nursing in Ann Arbor Michigan.
Kathy met Ken in the summer of 1963 thanks to her best friend, Bonnie, and Ken's best friend, Tom, who were dating at the time. Kathy and Ken dated for 4 years before marrying on April 28th, 1967. They lived in Ann Arbor for 2 years before moving to Melbourne, Florida, arriving in town on December 31st, 1969. With the exception of 3 years living in Jacksonville Beach, Fl., they have resided in the Melbourne area since; Palm Bay, Eau Gallie, Indiatlantic, Melbourne Beach and Melbourne.
Kathy was a stay at home mom for the first few years raising her young children. She was later employed, as a floor RN at Holmes Regional hospital for several years then worked for an ENT doctor as the office nurse and his surgery nurse for more than 15 years. Moving to Jacksonville in 1998, she was employed at the Mayo Clinic in the ENT department. After returning to Melbourne she worked in the GI Lab at Holmes Regional, and was last employed as an office nurse for a primary care doctor.
During her lifetime, Kathy was very committed to helping others and volunteering for many different organizations. She was a Girl Scout leader for many years for both of her daughters, a founding member of Immaculate Conception Catholic Church (ICC) in Melbourne Beach, FL, served as an Eucharistic Minister for both ICC and Ascension Catholic Church (ASC). She attended and facilitated many bible study groups at both churches, as well as belonged to marriage enrichment groups for over 40 years. She also belonged to Family Ministry Group through Our Lady of Lourdes Catholic Church (OLL). She volunteered for ASC Adoration Chapel, facilitated "CHIRP" retreat weekends and worked with ASC Social Concerns as another way to give back to her community. Because sharing her faith were such an important part of Kathy's life, she traveled with medical mission teams to Central America to help serve the medical needs of the area.
Family was extremely important to Kathy. For the past 23 years, Kathy organized family reunion vacations, which allowed the family to create lifelong memories together. She also valued her many friend groups that she considered as family. She loved creating memories with her family and friends through camping, traveling, playing bridge, hiking, scuba diving, and exploring. One of her favorite past times was baking cookies with her grandchildren and attending school functions and games. In her spare time, Kathy enjoyed sewing, quilting, creating stained glass art, and knitting.
A funeral Mass for the immediate family is being held in Kathy's honor on Wednesday, April 1 at Ascension Catholic Church in Melbourne, Florida. After the COVID-19 virus situation stabilizes, the family plans to hold a memorial Mass for all extended family and friends to celebrate Kathy's life.
12 entries.
Ken, I am so sorry to hear about Kathy's passing. She was a gem of a human being. My thoughts and prayers go out to you and your family. Jessica
Our condolences to Ken and his family.
I'm so grateful to have known Kathy and the entire Jagdmann family. Wonderful friends and neighbors!
My Sincerest Loving Condolences. Kathy is likened to Salt, throughout your lives, everything was seasoned to perfection from her. She knew that a gentle loving sprinkling was needed to enhance your lives! R.I.P. Kathy
So grateful to have known Kathy. Such an inspiring & courageous woman who focused her time & attention on what really matters in life. May you all experience God's comforting presence in this time of loss.
Kathy will forever live in our hearts and memories. "Blessed are they that mourn, for they will be comforted. " Love you dear ones.
Our deepest condolences to all of you during this time. Di, Mike, Terri and Dad J, we celebrate your mom and wife with you. All our love.
A beautiful tribute and a beautiful family. A wonderful life filled with love❤️
Ken and all the Jagdman family we are sorry for the loss of your family matriarch, Kathy! It was an honor to be included in a few family camping trips and we enjoyed sharing the outdoors and many fun memories with her! May peace be with you now and always. The Liggero family
Ken, Dianne, Mike, and Terri, we are so very sorry for your loss! Kathy was a very special lady and she made a lasting impression on me when I was little, as did you all, when you guys would visit us in Michigan or when we would come to see you in Florida. Those were great times! My Parents, Randy and Sherry, and my Aunt Bonnie, were such good friends having grown up together in Detroit. We were so blessed to have known your Mom and all of you and you all will be continually in our prayers during this difficult time and even after that. My Mom, Sherry, and your Mom are probably having a glorious reunion in Heaven right now! Praying that God will comfort you, strengthen you and uphold you with his righteous hand and give you peace that only He can give. You all are in our hearts, thoughts, and prayers. Love, Melissa and Randy Petresh
Such a lovely lady and a lovely family! You will be missed, but I think Jesus was at the gate to meet you! Love and peace to all!
Kathy was an amazing woman! She will truly be missed! What a legacy she has left! I am so honored to have shared some special gatherings with her and her family!