Kathryn B. Davis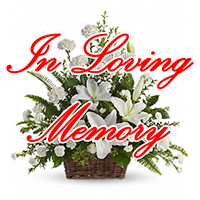 Born on April 9, 1941 in East Orange, New Jersey
Departed in West Melbourne, Florida on June 14, 2020
Kathryn B. Davis, beloved wife, mother, sister and aunt, passed away on 14 June 2020.
Kathryn, the eldest daughter of James and Jeanne Booher, was born in East Orange, NJ. She attended Miami University where she met Darol, her husband of 57 years. After graduation they married and Kathy joined Darol on a twenty seven year Air Force adventure. They soon had their only son, Chris, and Kathy devoted herself to running the house and supporting Darol as a military spouse. When she wasn't busy at home or with Chris, she volunteered at a number of organizations: her alma mater, the officer's wives club, as well as churches and charitable organizations wherever they were stationed and continuing that tradition at the Melbourne Library up until just before she passed.
Kathy was a source of strength, love, compassion and caring for her family and all her friends. She never failed to share a positive thought or comment with anyone she conversed with and believed all people were truly good inside. Kathy was a devoted Catholic whose faith was a guiding light in her life. She is survived by her husband Darol, son Chris, sister Marianne, brother James and many, many relatives and close friends who love and miss her terribly.
A memorial service will be held at Our Lady of Lourdes Catholic Church at 11am on 25 June 2020, where she was a member since 1993. She will then be laid to rest at Arlington National Cemetery.

4 entries.
I remember seeing Kathryn every morning in the yard tending to the plants and cleaning up the yard with her hubby. She had always been so nice and always wanted to chat when she had the chance. I will surely miss seeing her in the yard. My condolences to the family. Praying for strength for Darol and the rest of the family. Sending loving thoughts.
Kathy was one of the sweetest and kindest women I've known. Her lovely heart will be missed. My condolences to Darol, Chris, Marianne, Jim and all who loved her.
One of the sweetest kindest people I have ever had the pleasure of knowing. Rest in peace dear friend. I will miss you but know you are in God's hands.
Darol, Chris, Patty and other family members. Mom and I are so very sorry about the loss you are experiencing in Kathy's loss. She was a bright light in a sometimes very dark world. God bless you all. Rest in peace dear Kathy.