Kathryn "Kathy" Rita Redding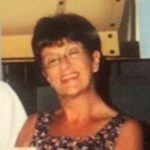 Born in Stoneham, Massachusetts April 13. 1943
Departed in Melbourne, Florida on September 25, 2019
Kathryn "Kathy" Rita Redding, age 76 of Palm Bay, Florida, passed away on Wednesday, September 25th, 2019. She was the daughter of the late Edward and Catherine (Morris) Murphy of Stoneham, Massachusetts.
Kathy attended Rollins University where she attained her degree in Psychology and spent years using her education to help the less fortunate. Kathy worked as a social worker for Brevard county utilizing her talents to help others. Never were Kathy's counseling skills more evident than when she counseled us all through her final journey, helping us cope with immense grief, while living out her final days with incredible strength, grace, humor and just enough counseling to keep us all on course.
She was an active member in the Palm Bay community and not only was she an avid reader Kathy owned and operated a bookstore in Palm Bay for 15 years. Known as "The Bookmark" of Palm Bay, the store allowed her to share her passion with others offering new and used books.
Her friendly smile welcomed anyone through the door who came in just to talk, sit in a corner of the store and have a quick browse of a book or those that came in to visit with the 3 shih tzu's (Panda, Molly and Andy) she loved so much.
When she wasn't at the store, Kathy could be found at home working on their beautiful landscaped yard, finding a new recipe to try and create in the kitchen, or searching for a new cruise destination that she and her loving husband could journey too while still finding time to prepare for the next holiday and family gathering.
While we know that she is at peace, there is pain and sadness left behind for those that knew her as a loving Mother, Sister and Grandmother. But even though she is gone, she has left the legacy of her love and perseverance. The ways she touched our lives will remain, and I ask you to keep those memories alive by sharing them with the family and with one another.
Kathy is loved and mourned by her husband of 35 years Paul "PJ" Redding of Palm Bay, FL, their children Shawn Smith of Tampa, FL, Lisa J. Smith of Pompano Beach, FL, her brother Robert Murphy of Stoneham, MA; sister Joanne Roy of Atkinson NH and Grandson Nolan Smith of Tampa, FL.
A celebration of life for Kathy will be held at the Captains House at Goode Park, 1300 Bianca Dr. in Palm Bay, Fl on Sunday, November 10th  at 1 p. m. until 4 p.m.
The family would love all that knew her to attend and share this time with them. For those who wish to make a memorial gift donation, the family asks that contributions be made in memory of Kathy to the Wuesthoff Hospice Health System, Brevard Hospice at 8060 Spyglass Hill Rd. Viera, FL 32940. They are wonderful group who took amazing care of Kathy during her final days. Also, assisting the family and with great mention is The Brownlie-Maxwell Funeral Home and Melbourne Crematory, Melbourne, FL.
4 entries.
PJ, my condolences to you and Kathy's kids on your loss. Kathy was a wonderful person and I'm blessed to have known both of you all these years. You weren't just wonderful clients, but great friends too. I enjoyed taking care of all your fur babies for 26 years. I know she's with them now and they are all in great hands. She's at peace now and that's all that matters. God speed Kathy and God bless you PJ, Shawn and Lisa. My heart is with you all.
P.J., I am so sorry to hear about Kathy and that she had suffered for for such a long time. Kathy was a great person and so nice to be with. You're a stand up guy and you were there for her throughout her illness and I know you took good care of her. I know you must be going through a rough time now and I hope you get through this and find peace soon. I am sure you got some great memories with Kathy to get you through this.
Kathy was a wonderful gal and will be sorely missed. Our sympathies to PJ and the family.