Lane W. Vaughn
Lane W. Vaughn, 69, was born September 4, 1952, in Melbourne, Florida and died November 2, 2021, in Houston, Texas.
Lane graduated from Mel High, the University of Florida and Whittier School of Law. After graduation he became a criminal defense attorney. While at Whittier, he met famous Houston defense attorney, Richard "Racehorse" Haynes, who was a guest speaker at the school, and they became good friends. This friendship would later lead Lane to move from Melbourne to Houston to practice law there. Although he lived in Texas for many years, Melbourne was always "home".
Like his dad, Jackson, his brother, Curt, and his cousin, David Champ, Lane loved to hunt deer and turkeys with family and friends. He was also an avid Florida Gators fan. He played offensive and defensive tackle for the Gators as a walk on from 1973-1975 and was able to go to the 1974 Sugar Bowl with the team. Jackson wore Lane's Sugar Bowl watch until his death in 2020.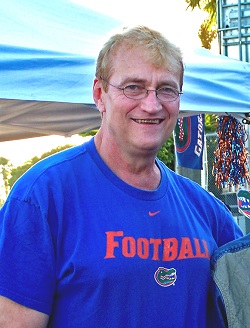 Lane also loved cars, muscle and exotic cars especially. Lane constantly studied and read about cars and car sales. He probably bought enough magazines to keep Hemmings and other car magazines in business.
2020 was a rough year. Lane adored his Dad and not only did Jackson die in March but Lane underwent a heart transplant in October. Initially suffering from some complications and setbacks, Lane's health began to improve and the heart transplant was a great success. Many thanks to those families who in their time of tragedy donate their loved one's organs so that others, such as Lane, have a chance to survive. October 13, 2021 was Lane's one year anniversary of the transplant, which normally is a major milestone. After his one year check-up, Lane intended to come home and visit for a month or so. Unfortunately, in late September he came down with COVID and even though he was vaccinated, being on all the immune suppressant drugs for the heart, his immune system was unable to sufficiently fight the disease. By the time the infection was somewhat under control, his lungs were too damaged and despite his staunch effort to overcome the disease, he was not able. The heart however, when all the other organs were failing, continued to work wonderfully until the very end. The Houston Methodist Hospital heart transplant team, the COVID, ICU, pulmonary, and other doctors and nurses were heroic in their efforts to save Lane. The medical care he received was astounding and everything that could possibly be done to save him was attempted. Houston Methodist is an amazing hospital.
Lane is survived by his children, Lane Jr. and Alesha, his sister, Elise, his nephews, Curtiss, Chris and Adam, his sister-in-law, Vicci and his beloved dog, "Little Man". He is predeceased by his parents, Jackson and Elaine, his siblings, Jack, Curt, Louis and Cindy, and his nephews, Trevor and Evan.
Visitation will be held Saturday, November 20, 2021, from 10:00 to 11:00 A.M., with a funeral service to follow at 11:00 A.M. at Brownlie-Maxwell Funeral Home. A reception will be held after the funeral at American Legion Post 81 in Melbourne.

4 entries.
On behalf of the Richard "Racehorse" Haynes family. Our deepest condolences to the Vaughn family. Lane was a true friend to me and my family and he had a heart of gold. He will truly be missed. Prayers and thoughts…
One of my closest friends for over 50 years not just an acquaintance. What a character I miss him deeply.
Sorry to hear about Lane. He was a sweet guy. I always enjoyed speaking with him when he attended Kiwanis functions with your father. My Condolences to the family.
The Vaughn family has been my family for over 60 years. My mother was Jackson Vaughn's secretary for over fifty years. Lane was a gentle giant and a kind gentleman. He loved his family and animals.