Leila Peace Mellette Seabold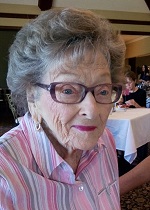 Born November 11, 1918 in Wedgefielld, South Carolina.
Departed on December 28, 2020 in Melbourne, Florida
Leila Peace Mellette Seabold died peacefully at her home on December 28, 2020 surrounded by her loving family. Leila, 102 years old, was born in Wedgefield, South Carolina, on November 11, 1918, Armistice Day. Her parents were Marion Matthew Mellette and Ethel Thompson Mellette.
Leila had what she always described as an idyllic childhood. She enjoyed playing tennis with her 3 sisters and 2 brothers, picking peaches in the family orchard, and especially the fish fries with family and friends at the family's clubhouse on the Edisto River.
Leila graduated from Montreat College and then enjoyed a career at the University of South Carolina as the secretary to the dean of the engineering school. It was there that she met Lauren Samuel Seabold, an engineering student who had just mustered out of the US Army after serving in Austria and Germany during World War II.
Leila and Lauren were married on July 24, 1948. It was a loving relationship that lasted throughout their entire lives. They had five daughters, each of whom had a close and loving relationship with their mother.
Leila and Lauren moved from South Carolina to Fort Pierce, Florida in 1952, and then to Miami Florida, in 1953. This is where they raised their daughters. They were wonderful years for Leila and the whole family. In 1976, Leila and Lauren moved to Melbourne, Florida where they enjoyed retirement at their home on Watkins Drive that they loved.
A few years after Lauren's death in 2009, Leila moved to Las Vegas, Nevada to live with her daughter, Lynn. Lynn skillfully and lovingly cared for Leila, with the help of her sister, Lorraine and Lorraine's family for over eight years. The wonderful care Leila received in Las Vegas surely extended her life for many years.
Leila was an accomplished cook who prepared delicious and healthy meals every single night for her family. She was well known in the neighborhood for the beautiful birthday cakes she made, and for the custard she made for those who were sick.
Leila also maintained a beautiful home that was a comfortable safe haven for her husband and children, and any others who were fortunate enough to find themselves there.
Leila was an excellent bridge player who thoroughly enjoyed her Miami bridge club and with whom she kept in touch for many years after leaving Miami.
Most importantly, Leila was a faithful Christian who was charitable and kind to everyone she encountered. She spoke ill of no one, and was always ready with an encouraging word. She worked very hard for her church for many years serving as co-chair of the Altar Guild of Holy Trinity Episcopal Church. She was also the longest serving worker at the Holy Trinity Thrift Shop, volunteering for over thirty years – well into her 90's.
Leila was preceded in death by her beloved husband, Lauren. She is survived by her five daughters including Lynn Baty; Ann Rotroff and her husband, Tom; Pamela Standley and her husband, Mel; Lorraine Esposito and her husband, Johnny; and Christina Courshon. She is also survived by her beloved grandchildren and great grandchildren. Her grandchildren include Laurent Rotroff and her husband, Steven Reingold; Richard Rotroff and his wife, Laura;
William Greene and his wife, Moriah; Garrett Greene; John James Esposito; Timothy Esposito; Kristina Esposito; Alyssa Courshon; Lauren Courshon; and Chad Courshon. Leila's great-grandchildren include Elsa Rotroff-Reingold, James Rotroff, Thomas Rotroff, and Rowan Greene.
Leila will be missed terribly by her family and all those who were lucky enough to know her.
2 entries.
I'm so sorry I didn't get a chance to see Aunt Leila one more time before she passed. She will be greatly missed - the last of the Mellette siblings. Much Love, Brandon