Leonard J. Blackburn
Leonard J. Blackburn – a loving husband, father, grandfather and friend – passed away peacefully in his sleep at his home in Melbourne, Florida on Tuesday, December 13th, 2022.
Leonard was born to Betty June Harnage, in Frostproof, Florida on September 20th, 1950. He graduated from Melbourne Highschool in 1969 and immediately went into the United States Army, where he fought in the Vietnam War.
Leonard fought in the 25th Infantry Division 3/4 Calvary. Serving 2 combat tours in Vietnam from 1969-1971, he managed to earn 2 Purple Hearts and a bronze star during this time. Leonard went on to serve 20 years, traveling the world and being stationed all over.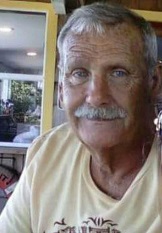 He retired from the Army in 1987 and eventually met and married his wife, Charlotte Blackburn the same year. With 35 years of marriage December 5th, 2022.
Leonard leaves behind his wife, 2 daughters; Rebekah and Cathryn. Son, Christopher. 3 grandchildren and 4 great grandchildren. As well as many aunts, uncles and cousins. However, he was loved by many, many more.
His service will be held on Saturday, January 7th, 2023 at 2pm, at the Brownlie – Maxwell Funeral Chapel followed by Leonard's Celebration of Life with friends and family.

19 entries.
I'm gonna miss talking to you , you were one hell of a guy !! I really enjoy being friends and coming up with new projects! I will finish the Cavalry crest and get yours to your wife to give to that grandson!
I actually reconnected with Blackie during our last 25th Infantry reunion that my wife Judy and I hosted in Phoenix, AZ in 2019. He and Charlotte were sitting with us during the paddlewheeler boat cruise through Canyon Lake at the reunion. Although I had heard of Blackie, I was not in Nam at the same time that Blackie was. May Blackie rest in peace.
Leonard we will miss you a lot . You were a awesome trooper and a great guy , You will truly be missed by family and friends a great soldier!!!!! GOD BLESS YOU AND ALL YOUR FAMILY AND FRIENDS !!!! We will truly miss you!!!
I served with Blackie in Vietnam and was honored to know him and to fight beside this brave soul. Years after Vietnam, he approached me in a line at a military commissary. I was very humbled that he remembered me. That was typical Blackie. Where others might have passed on that opportunity, he seized it. As more years passed, Blackie and Charlotte came to attend reunions with us. It was my pleasure to once again renew my relationship with Blackie, and to meet his lovely Charlotte. General George Patton Jr. said that we should not mourn our fallen but should thank God that such men lived. I will mourn Blackie's passing and thank God that I knew him. Rest in Peace, My Brother. I'll see you on Fiddler's Green.
He was my friend for 56 years. I am assured by our many heartfelt discussions we will continue our friendship in Heaven with Our Lord & Savior. Catch You Later My Friend, Jim Thompson
I will represent First Plt and C Troop veterans at the service on Saturday. I was a Plt Leader and C Troop Commander in 1969-1970. I bring the respects of C Troop for our brother, Blackie and we extend our sympathy to Charlotte, the Blackburn family and friends of our brother.
I always enjoyed my time spent with Leonard. Truly a rare breed. my prayers go out to his entire family
I'm deeply sorry for the loss of your beloved husband. You and your family are in my prayers. I'm grateful for Leonard's many years of service and sacrifice for our country. May you cherish your memories in the days ahead. ❤️🙏🏻
Leonard was a great man! Loved his family and friends more than anyone I know. He will definitely be missed until we see each other again.
Charlotte I so wish I could have met your husband he seemed like he not only was a great man but service man, husband and father. I hope God gives you strength and peace to get thru this difficult time. Love you!❤️❤️
Leonard was true Trooper off 3/4 Cavalry and defender to USA , and a brother in arms
With all my heart. Much love to all. ❤️ rest easy Bubba. Enjoy being the best gardian you could ever be!
Life will not be the same without you Len,I love you
Prayers for you and the family.
Even tho. I was never around Len to get to know him very well, my most vivid memory was him as a toddler. His mother was an older 1st cousin of mine. My Mom & Dad, Albert & Lila Crumbly , spent a lot of times camping with them. Len was one of my Moms favorite people so I got to know him 2nd hand.
There are no words to express the pain that everyone who knows and loves Leonard is experiencing at this time. I rest in the knowledge that he's with his Heavenly Father and free of the pain that he has endured for so long. Thank you, Charlotte for taking such good care of my nephew and loving him. He loved you, Becca, Cathy, and Trenton dearly.
Hugs to Cathy,Charolette & your family. I never meet Mr.Blackburn personally but always read his comments on the Huntley Boxer page & when your a Huntley boxer owner we are all family.
Love and miss you Leonard 😔 ❤️❤️
So sorry for your loss.May God be with you and bless you