Lester "Chuck" Depatie III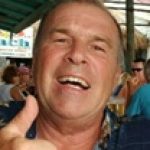 Born in Pawtucket. RI on February 6, 1953
Departed in Indialantic, FL March 15, 2018
Lester "Chuck" Depatie III, age 65, passed away March 15th, 2018 at his home in Indialantic, FL. He was born in Pawtucket, Rhode Island on February 6th, 1953. He came to Brevard County in 1989 with his wife and best friend, Janice.
He was a hard working floor covering installer for 48 years. A master of the trade who took pride in his craft. A man of many projects, he was continuously improving and maintaining his beachside home that he and Janice had purchased together in 1995; where they made many lasting memories with family and friends who visited often. He was quite creative as a jack-of-all-trades handyman around their house. He might not have always had the right tool or part, but he was imaginative and would always find a way to make it work.
He was an avid New England Patriots fan. Even living in the state of Florida he was not shy about expressing his passion for the team. He loved to play golf and watch the "Big Boys" of the PGA (as he would say) on television. Other hobbies he enjoyed throughout his life were bowling, fishing and relaxing by his pool. He loved seafood and had the pleasure of experiencing some of the best of it in New England and Florida.
Beloved husband, proud father, grandfather, brother, and genuine friend to many who had the pleasure of knowing him. He simply loved to laugh, celebrate and have a good time with people. He could be silly for the sake of entertaining a crowd; he just knew how to make people laugh. His smile was contagious. He is so loved by many and will be missed dearly.
He is survived by his wife, Janice, son, Michael (Alexandra), daughter, Kristen (Anthony Truax) and two grandsons, Garrett and Easton. He was preceded in death by his father, Lester J. Depatie Jr. He is survived by his mother, Florence (Donahue) Depatie and six brothers and a sister; Rev. Donald, Robert, David, Richard, Russell, Lynne Tuite and William.
Chuck was an animal lover, especially dogs. In lieu of flowers, please make a donation in his name to Spartacus Legacy Dog Rescue of Brevard County (http://www.sparticuslegacy.org/).
A Memorial will be held at Brownlie & Maxwell Funeral Home in Melbourne, Florida, on March 24th, 2018. Early visitation with loved ones is from 2:00 -3:00 p.m. followed by services.
A Memorial service will be held at St. Margaret's Parish in East Providence, Rhode Island on April 7th, 2018 at 10:30 a.m.