Lillian L. Foskett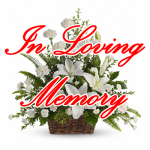 Born in Fairhaven, Massachusetts on August 15, 1916
Departed in Palm Bay, Florida, on May 25, 2019
Lillian L. Foskett, 102, of West Melbourne, FL passed away on Friday May 24, 2019 in Palm Bay. She was a native of Fairhaven, MA and a housewife.
Survivors include her son James, daughter, Judith Lewis, 5 grandchildren, brother, David Livesey, 8 great-grandchildren and 2 great-great children. She as predeceased by her brothers Carlise and Robert, and sisters Beatrice Isabelle, Doris Bradley and Olive Chadwick.
A memorial Services will be held on May 29, 2019 at 2:00 pm in the Buena Vida Chapel.