Marion Bistarkey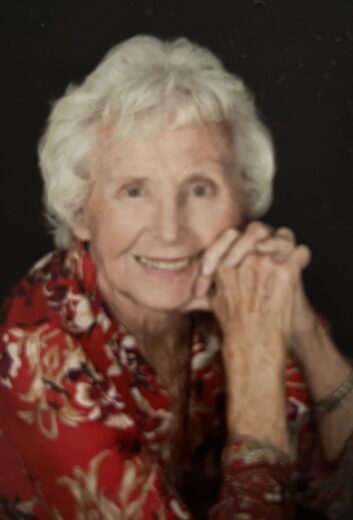 Born July 23, 1933 Milwaukee, Wisconsin
Departed October 9, 2023 in Melbourne, Florida
Marion Bistarkey, age 90, of Melbourne Passed away peacefully surrounded by her family on October 9, 2023. She was a long time resident of Melbourne.
Marion was born in Milwaukee, Wisconsin to August and Margaret Eicke and remained there until she married the love of her life Don Bistarkey. They were married for over 50 years. She traveled to Ohio and New York but Florida became her long time home.
She was a stay at home mom until she began working with Brevard County Schools, first as a cafeteria associate and then as a teacher's assistant before she retired.
Marion loved to travel with her husband Don, her family and friends. She and Don had some great adventures, her favorite being her trip to Hawaii with Don and her sister and brother-in-law. She was a spontaneous woman who always loved to be on the go whether with her family or friends.
She was active in her church, loved to volunteer in the community and sing in the choir at Peace Lutheran Church.
First and foremost, she was our beloved mom and grammie. Her family was her whole life and we cherish the precious memories that we have of her. She was so special to all that she met.
Marion was preceded in death by her parents August and Margaret Eicke; her husband Donald S. Bistarkey and her sisters, Ruth Handt and Dorothy Cowen.
She leaves to cherish her memory her children Stephen (Gwen) Bistarkey, David (Debbie) Bistarkey, Barbara (Steve) Colby, Mark Bistarkey and Laurie (Jeff) Cutshall. Her grandchildren are Jason Bistarkey, Kristen (Morgan) Campbell, Jennifer (Jason) Moran, Kara (Kyane) Ragobar, Justin Colby, Ryan Colby, Chase (Melissa) Cutshall, Cassidy Cutshall and Skyler Bistarkey as well as her great grandchildren Casen Campbell, Blane Moran, Bryce Moran and Karina Ragobar.
Services will be held privately with family and close friends.
4 entries.
Sending hugs and prayers to all the Bistarkey's. Grammie was a wonderful mom, grandmother and great grandmother. So happy she was able to celebrate her family and friends throughout her long life. ❤️
To Marion's Loving Family Will always remember Marion doing water aerobics-always stopping by to talk to us sitting in the driveway and riding her bike as fast as she could to catch up with girls walking. Rest in peace Marion-such a sweetheart!
Marian will be greatly missed in the Pine Creek community. She was active in water aerobics, participated in pot luck dinners and always stopped and talked to neighbors and dogs while riding her trike around the community. She was a lovely snd kind woman. Randy and I will miss seeing her. Deepest condolences to her family.
We will cherish all the memories and fun family times we participated in with such a beautiful woman.