Marjorie "Midge" McDonald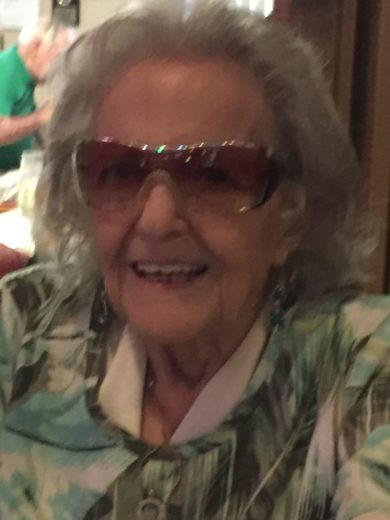 Born January 7, 1931 in Dover, New Jersey
Departed April 17, 2022 in Melbourne, Florida
Marjorie "Midge" McDonald passed on April 17, 2022 at home. She was born January 7, 1931 to Helen and Randy Smith in Dover, New Jersey. She married Richard "Buck" in May of 1949, they had Rick and Ron prior to moving to Palm Bay in 1956 where they had Debbie and Sharon.
She is survived by her son Ronny McDonald; daughter Deborah (Pete) Davis; nine grandchildren and 16 great grandchildren. She was preceded in death by her husband Buck; son Rick; daughter Sharon Grimmich; grandson Ronny, Jr. and great grandson Gavin John. She was a loving and supportive wife, mother, aunt and grams.
Midge wore many hats. She was a family accountant, housekeeper, party planner and entrepreneur. Margie belonged to the early Palm Bay Garden Club and Life VFW 8191 Auxiliary Member.
She was loved by family, neighbors and friends. Always ready for a party, she would beat you to the door. You are loved and missed by all. A special thank you to the staff at Vitas.
Friends may call Thursday, April 21, 2022 from 10 am until time of service at 11 am at Brownlie Maxwell Funeral Home, 1010 E. Palmetto Avenue, Melbourne, Florida 32901. Burial will follow at Fountainhead Memorial Park.
7 entries.
May the peace of the Lord be with Midge and the entire family.
Love you aunt Midge. Going to miss you.
Such a sweet and beautiful lady.
Midge, you were such a fun Mom! Your Sharon was the best friend I ever had and we even shared the same birthday; I miss her so much. I know you had quite the "greeting" when you arrived at the gates of Heaven from all of your loved ones. Debbie, you have been such a wonderful daughter, taking care of her, and so much more. Rest in Peace, Sweet Lady.
We love you sooo much Aunt Midge! We would love coming to Florida for reunions and partying on your porch. The memories and laughs are endless! You are definitely missed already. You are in peace now......
She was a lovely woman and good neighbor. I'm so glad I got to know her and her family.
Aunt Midge, soar with the angels but try to behave when you meet up with my Mom. You will be forever remembered iny heart. Although we were far from each other in miles I have always thought of you dearly. May the family you left behind get comfort knowing you are at peace and no longer in pain. I am sure you were welcomed in Heaven by those who loved you 💞