Mark Anthony Alonso
On Saturday, July 11, 2020, Mark Anthony Alonso, loving husband, father of four, grandfather, son, and brother, passed away at 50 years old. Although he was taken away from us too soon, he was doing something that he loved – riding his motorcycle; in which he felt free on the open road. Mark was born on March 29, 1970 in Bronx, New York to Auria and Modesto Alonso. He was a man of many talents that loved to used his hands to make custom creations. Mark had a strong passion for leather crafting, painting and without a doubt was a Mr. Fix-it of the household.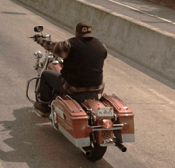 He is survived by his beloved wife Michelle Alonso, to whom he was married to for 17 years and together for 26 years. Together they raised four children, Natasha 31, Mark 29, Chelsea 25, and Kaitlyn 24. He was an amazing father and an even better grandfather to Kardell 9, Anthony 6, Jackson 4, and Meadow 1. We would like to extend our endless gratitude and appreciation to everyone who has reached out to us during this time. Thank you to his friends, colleagues, and extended family for your continuous support. While we will miss him dearly. We have comfort knowing that he is riding in paradise.

8 entries.
I'm so sorry for your loss <3
My deepest condolences I'm his little cousin Ida's youngest sibling May God give our family the strength at this to deal with this great lost. My best memory is him with his turn tables playing music. Great personality will be missed. RIP Markie
Ride on :fly high my cuz .miss and love you! REST EASY CUZZO..
You will be missed but you will never be forgotten. Everyone life you touched is better. My son Your son in law loved you as a father and he always spoke so highly of you. Thanks for loving him and sharing your trades and life. We will always have you in our hearts.
Love you my brother till we meet again God speed
Our condolences. You will be missed but never forgotten. I know you will be an Angel to your family. Love you all.
Heartbroken dear cuzzo. R.I.P.
Am first cousin to Mark ,was babysitter when he was little. He was a beautiful kid. Will miss him.