Martin J. Almberg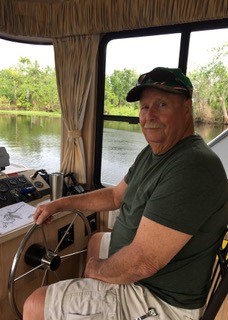 Born April 26, 1940 in Bay Shore, New York.
Departed on December 20, 2020 in Melbourne Beach, Florida
Marty passed away at home on December 20, 2020 after fighting a courageous battle with ALS. He was born in Bay Shore, New York on April 26, 1940 to Ernest and Magarite Almberg.
Marty has been married to his wife Carol for almost 60 years and they've been retired for over 20. He was in the USAF in the early 60's, worked for Grumman in Long Island for a bit, volunteered for the Islip Fire Department, and joined the Suffolk County Police Department in the 70's. He ultimately settled into the Marine Bureau where he was captain for about 20 years. He was a boater his entire life, built race cars as a teen, raced stock outboard hydroplanes for a number of years and participated in the Suffolk County Police Explorers. He loved his hobbies, especially in retirement. He put old outboard motors (Mercurys) together, restored antique wooden boats, worked on his model trains, golfed regularly and cruised regularly with his wife. More than anything else, he loved his family. He is survived by his wife of 59 years Carol, Butch and Rita, Win and Tara and 4 grandsons Connor, Laif, Logan and Lahrs.
Services will be conducted on January 16th, 2:00pm, at Chapel By The Sea, located at 8240 S. A1A, Melbourne Beach, FL 32951. A celebration of life will follow immediately in the adjacent memorial building. In lieu of flowers, donations can be made to Chapel By The Sea.
1 entry.
I loved him so very much and he was like a father to me for many years. I'm so very sad he had to leave this life but have faith that he is in Heaven and at peace. He will be missed by all who knew him as he was a truly great man, but most especially he will be missed by his dear partner in crime my son's sweet grandmother Carol. They were each other's right arm and inseparable. My sincere love and condolences to you all. Love, Tricia