Mary Anne Benz
Mary Anne nee Kossowski Benz of Melbourne, FL, formerly of Orchard Park, NY, November 16, 2023. Preceded in death by Norman, her loving husband of 59 years. Beloved mother of Michael (LuAnn Yerks), David, Rosemarie (Paul Ericson), Elizabeth (Mark Myszka), Christopher (Kat Clark), Karen (Edward Hyder); grandmother of late John Benz, Adam Myszka (Katie Urbonas), Anna Benz (Sam Lien), Breanna (Patrick Santos), Lara Ericson and Janine Myszka; great-grandmother of Hunter, Nolan, Tala James and Aurora. Devoted daughter of late John and late Carrie (Tyloch) Kossowski; sister of late Henry (late Barbara Block) and late John.
On Monday December 4th Visitation and Wake will be at Brownlie – Maxwell Funeral Home from 5pm-7pm, Tuesday December 5th at 11am a Funeral Mass will be celebrated at the Ascension Catholic Church.
Donations may be made to Divine Mercy Radio www.divinemercyradio.com in lieu of flowers.
As a teenager in the late 40s, Mary Anne Kossowski worked in the bindery at the Victorian Magazine and later in the office.
On her 15-minute prayer break, she would go to Our Lady of Victory Basilica and pray in front of the Blessed Sacrament and ask that she marry a good, Catholic husband and raise a family in faith. Ideally, she wanted a taller man, but at 5' 9" she didn't have high hopes. She kept a prayer card of a sailor in her wallet that had the initials "N. B." She said it stood for No Body, convinced he'd never show up.
A few years later, at St. Martin of Tours parish, 6' 2" former Naval pay officer, Lieutenant Norman Benz, Certified Public Accountant, was managing the books for his church building fund. He stopped at the Marine Trust Bank in Smith Plaza on Abbott Road to deposit the receipts and to see Mary Anne, a pretty teller there. A Catholic girl he met at a square dance. She was tall and had peaches and cream skin. When the other tellers saw him walk in, they closed their windows.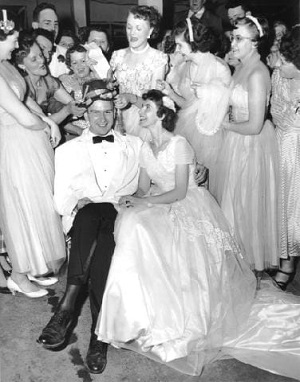 Norm and Mary Anne married, raised a family with 6 children and 6 grandchildren. Their life was blessed immeasurably. After retirement, they moved to Melbourne, Florida where they led an 8-year effort to launch a new radio station that would broadcast the Word of God to listeners in Brevard County and the Space Coast. WDMC Divine Mercy Radio 920AM is still broadcasting today. Listeners can live stream by clicking Listen Live on the website https://www.divinemercyradio.com/
Norm died during their 60th year of marriage. When she returned for his funeral and burial, Mary Anne stopped by OLV to say a thank you for a man who was an answer to her prayers.
I'm imagining them reunited in Heaven today, catching up on the past 10 years. Rest in peace Mom and Dad.

7 entries.
May Mary Anne Benz rest in peace in God's arms.
It was an absolute honor to be a part of her care. Our team took great pride in taking care of her and we were all so impressed by her heart for God and those that she loved.
Blessings to all who knew Maryanne because to know her was certainly to love her! She was such a precious person. We met as I was a caregiver, and shared our love of family and faith, praying together each time we were together. She was rich with memories and stories of her beloved husband and children. "He shall cover you with His feathers and under His wings you shall trust, His truth shall be your truth and buckler." Psalm 91:4 I loved you Maryanne and trust you are reunited with your loved ones under the wings of Jesus Christ who died and lives for us! Prayers that all your family will trust in Him and be changed by the tenderness of God's love. The radio station Mr. Benz was instrumental in getting started proclaims to the public God's love and offer of salvation through Jesus. I know this because my friend Shirley was so blessed listening to this station and grew in faith as she was dying of cancer. I look forward to our reunion in heaven!
What a sweet, and lovely life story, and too many adventures with all those beautiful children to recount! Thanks for sharing the obituary with all of us. I remember the Catholic faith before politics entered in. I was taught Catholic meant all-embracing, wide and universal. I remember the enchantment of the mass said all in Latin and on special occasions with incense and choirs and celebration. I love the' Greatest Generation", most of them gone now, including my parents and their friends. History is important. May we remember them.
The story of Mary Anne was so beautiful. I loved her dearly. She was a very special lady and our visits were wonderful.
What a beautiful life! I am blessed to know two of her amazing children. They both exude goodness and light. Prayers on this journey of celebration and grief. It is so hard to say goodbye to our Mama's. Blessings, Wendy
Your mom was a great woman. She now has an eternity of joy. She had much to be proud of in all of her children. God bless.