Mary Bolding McGee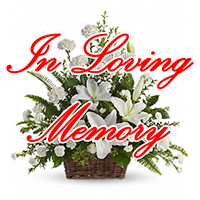 Born in Burke County, North Carolina on November 28, 1928
Departed in Palm Bay, Florida on February 15, 2019
Mary Bolding McGee, 90, of West Melbourne, FL passed away on Friday February 15, 2019 in Palm Bay. She was a native of Burke County, NC moving to Brevard in 1963 from Tampa. She was a retired Teaching Assistant at Meadowlane Elementary School, a member of Central Baptist Church and was involved in Girl Scouts. She enjoyed gardening and Arts and Crafts.
Survivors include her husband of 68 yrs Robert, daughter and son in law, Theresa McGee and William John Hook daughter and son in law, Sheila McGee and Robert Wayne Holmes, Son, Steven Robert McGee, grandchildren Elizabeth Hook, Michael (JoyAnna) Holmes , Nancy Holmes, Aubrey-Jordan(Joshua)Vinson, Mallory McGee great-granddaughter: Elise Holmes
Sister: Lois Wease. She was predeceased by granddaughter, Samantha Hook and daughter in law, Angela Laufenberg-McGee.
Calling hours will be Tuesday February 19th from 10 – 11 am followed by a service at 11:00am in the Brownlie-Maxwell Funeral Chapel.
5 entries.
I'm truly sorry you all are having to experience the indescribable physical pain that often follows the loss of a loved one. Our compassionate Heavenly Father understands your pain, and is eager to provide comfort during these distressing times. So don't hesitate to pour your hearts out to him in prayer concerning your personal grief.
Our sincere sympathy to Uncle Bob and the entire family.
I feel you loss, your tears your sorrow, yet in my heart I know we'll all be seeing her soon, when we're called home. Life is but a blink of His eye. Mary will be dearly missed by family and friends. She was a very special lady and always will be. Mary always appreciated the little things one would do for her and tell you so, which meant so much. I was one of Mary's caregivers, for 3 years, but I never felt like a caregiver, but family. From the oldest to the youngest they all made you feel like family. Open hearts, open arms, a loving family, a gift from God. Today you soar with Eagles Mary. Love you Mrs Mcgee, and we will see each other again. Love and respect always, Nancy
I am so sorry to hear of your great loss. Recently I lost my dear Mom and found comfort in the Holy Bible, like at Isaiah 25 verse 8 - "The Sovereign Lord will swallow up death forever, and wipe away the tears from all faces." Also at Revelation 21 verse 4 we find God's promise to remove both pain and death. For more comfort, I turn to the website at: www.jw.org (Search: Comfort)
Our thoughts and prayers to a special McGee family. It has been a blessing to be neighbors for 55 years. Love you.