Mary Jane "MJ" Saldutti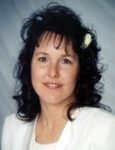 Born in Marquette, Michigan October 26, 1954
Departed in Palm Bay, Florida on October 1, 2019
Mary Jane "MJ" Saldutti, 64, passed away on Tuesday October 1, 2019 at her home in Palm Bay, FL. with her family and special friends by her side.
Mary Jane was born on October 26, 1954, in Marquette, MI, the daughter of Robert W. Slota and Dorothy "Neiman" Slota. She was a graduate of Baraboo Senior High School in Baraboo, Wisconsin, class of 1972. She was married to Kurt M. Saldutti in Baraboo on November 26, 1997 at the home of her parents.
Prior to living in Palm Bay, Kurt and Mary Jane lived in West Palm Beach, FL, where they both worked at Muzak Inc. They moved to Palm Bay in 1997. Mary Jane worked at Home Depot as a Department manager over the course of 20 years where she developed a very close friendship with many of her colleagues.
Mary Jane loved helping people during all phases of her life and remained very close to a select group of high school classmates throughout her life. She also enjoyed home projects, crafting, nature/camping and gardening. Following the marriage of her son, she became a grandmother (instagram) to four grandchildren in Cookeville, TN. Even though the opportunity to be with them was cut short, she dearly loved getting to know and visit them and their mother, her two children Jim and Samantha and her extended family in Tennessee.
MJ was preceded in death by her wonderful parents and her beloved Labrador Retriever, Haley.
Mary Jane is survived by her husband Kurt; two children, James Bolin (Jennifer) Cookeville, TN and Samantha Bolin (Christopher Rains) of Sparta, TN; four grandchildren, Jayda Bolin, Ciara, Breyden and Kyra Edwards of Cookeville, TN; sister-in-law Barbara Blodgett, of Hobe Sound, FL; brother Paul Slota (Nancy Thompson) Middleton, WI; three nieces, Katharine Slota (Nicolas Koontz) and their son Henry Koontz of Fort Collins, CO; Julia Sipek, and daughter Severin Small of Port St. Lucie, FL; Lenore Tsai and daughter Jamie Tsai of Plano, TX. As well as their two cats, Smokey and Bella.
A visitation will be held at the Brownie-Maxwell Funeral Home, in Melbourne, FL on Friday, October 4, 2019 from 5:00PM – 7:00PM. Family remarks at 7:00PM. In lieu of flowers the family is encouraging family and friends to send a memorial contribution to: the American Cancer Society (1-800-227-2345);‬ or Health First Hospice of HealthFirst 6450 US Highway 1‬, Rockledge, FL 32955‬. Brownie-Maxwell Funeral Home, 1010 Palmetto Av.‬ Melbourne, FL. 32901‬, is assisting the family
14 entries.
M.J. Was such a wonderful person and always had a smile on her face. She will truly be missed. I'm lucky I had the chance to work 8 amazing years with her. My heart and prayers go out to all the family.
Kurt, Bill & I are very sad to hear about Jane. We send our condolences to you and your family.
Our hearts are broken for you. MJ was such a wonderful, genuine, fun loving person. May your faith, family and friends guide you during this sorrowful time.
She was so amazing. I truly loved working with in my 11 years there. She was loved by all. We will all truly miss her.
MJ will be greatly missed. She was always such a joy to work and interact with. A smile always on her face and such a sweet soul. She had such a soft and comforting way about her that always made your day feel better when you talked to her. I will forever be blessed that I had the opportunity to work along side her.
The love,...the spirit,...the laughter,...the compassion, and the selflessness. That's who MJ was,...and that is what I'm going to miss. We are ALL going to miss her tremendously. God speed, "Hunny".
I wish I had the words to tell you how much I'll miss our MJ. Her spirit and sassiness was just a tiny part of who she was and why people were drawn to her. I loved her for her sense of fun and adventure, and her even-tempered and pleasant ways. Was so incredibly lucky to have called her my friend. Sending heartfelt sympathy and love to Kurt, Sam and Jim, and all her family.
She was a great person to work with and will be missed. My heart goes out to all of you.
Kurt, I am so very sorry for your loss. I knew the first time I met you and MJ that you two were meant for each other. Please accept my dearest thoughts and prayers. Jim
You truly will be missed. Love and prayers to the entire family. You will forever remain in our hearts and memories. Rest in peace MJ.
M.J was a very special person in my life. I'm so sad to hear that she's gone. I've asked about her. She had a great personality and always just a joy to be around. I shall miss her so very much
Oh maryjane a mother anyone would want you will be truly missed by so many. You mr an amazing soul that I know will always no matter what look down on everyone. RIP you are now an angel in every sense of the word! Prayers to the entire family including Samantha whom I will always hold dear to my heart no matter what!
Kurt, I am so sorry to hear of your loss. May the lord offer peace to Mary Jane and welcome her to his kingdom with love. My thoughts and prayers to you and your family.....
Maryjane was a wonderful happy kind spirited woman and a fun soul to be around. We will miss you and your beautiful smile and happy heart. May you rest in piece. Love the Giove family.