Mary Jo Mahoney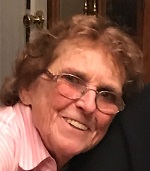 Born on October 30, 1940 in Queens Village, New York
Departed on August 11, 2020 in Melbourne, Florida
Mary Jo Mahoney (formerly Mary Jo Mulroy / Mary Jo Victoria) of Cocoa Beach, FL passed away at the Holmes Regional Medical Center in Melbourne, FL on Tuesday, August 11, 2020. She was 79 years old.
Born on October 30, 1940 in Queens Village, NY to Robert Mulroy and Katherine Russell, Mary Jo grew up in Huntington, NY where she attended St. Patrick's Catholic School. She moved to Canton, MA in 1967 and then to Dedham, MA in 1970, where she resided and raised her sons. She later lived in Oak Bluffs and Bourne, MA, and Little Egg Harbor, NJ before becoming a permanent resident of Cocoa Beach, FL.
Working as a super market meat wrapper to support her family, she earned her GED and studied to become a laboratory technician in the area of histology, working at Boston City Hospital, Carney Hospital in Dorchester and the VA Hospital in West Roxbury, MA, where she worked until retiring.
Mary Jo's strength, fierce independence, perseverance and devotion throughout her life were an inspiration. There was no stronger willed woman on the planet, and she was not shy about sharing her opinion. She loved talking to people and would strike up a conversation with anyone at anytime, making many wonderful friendships along the way. She enjoyed tending to her plants and flowers, doing crossword puzzles, loved the beach and looked forward to her time in her beloved Newport and Martha's Vineyard. She loved and cherished her family, especially her grandchildren, and her loving husband Frank brought her some of the best years of her life.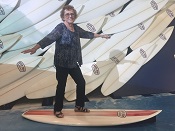 She leaves her sons William D. Strickland (Kathleen) of Upper Township, NJ and James A. Victoria (Joan) of New Ipswich, NH, her grandchildren Haley K. and John J. Strickland, Nicholas E., Elizabeth N., and Michael J. Victoria, her siblings Robert Mulroy (Susan) of Seaford, DE, Katherine Smith (Thomas) of Brick, NJ, and Patricia Teague (Micheal) of Live Oak, TX, her sister-in-law Dorothy Victoria of Dedham, MA, and her nieces and nephews Adam and Joshua Smith, and Katherine Mandrik; Casey Teague; Mark and Russell Mulroy; Charles and Thomas Smith; Robert, Alan and Katherine Mulroy; and her cousins Helen Scott, Kelsang Suma, Charles and Lisa Moisan. She was predeceased by her husband Francis Mahoney, siblings James Mulroy and Grace Smith, nephews Joseph and Seth Teague and Shawn and Lance Mulroy, and partner William Correllus.
A Mass of Christian burial will be announced at a later date, including fulfillment of Mary Jo's wish to have a celebration of life party. Memorial donations may be made to the Cystic Fibrosis Foundation cff.org and the Lyme Disease Association lymediseaseassociation.org/donate
7 entries.
Sending our sincere condolences. She was a very loyal friend to my mother. Best, Justine Waitkus and Anthony Day
Loved her as my sister and a friend
I met MaryJo while she was working with my sister Margie Waitkus at the VA. We would get together for drinks, lots of them, on the Vineyard where I also had a home. She and Bill were close friends with my sister and her companion Tommy Welch. MaryJo was very loving and supportive of Margie during her illness and was sad she could not attend her celebration of life.
Mary Jo, hard as nails, soft as a pillow. Just needed to know which buttons to push. Love you Sis, you will be missed.
Doty I will miss you forever Our long phone calls and multistory Our visits in varied places I promise I'll get back to Hawaii for you