Mary Lou Carlson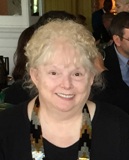 Born in San Diego, California on March 11, 1947.
Departed in Melbourne, Florida on May 26, 2018
Mary Lou Carlson went to Heaven Saturday, May 26, 2018 at the age of 71. She was the daughter of Warren Russell Dufrene of Raceland, Louisiana (deceased 1990) and Judy Carol Stewart of Winston-Salem, NC (deceased 2012). She was born in San Diego, CA, but grew up in Winston-Salem and Galesburg, IL. She married Dennis Lithander in 1963 in Galesburg, and then married Larry Algot Carlson in 1966 in Rockford, IL. Larry preceded her in death in 1998.
Mary had three daughters who are all Registered Nurses in Florida: Denise Gangraw (Rick), Michelle Fritz of Melbourne and Tonya Drew of Winter Park. She had eight grandchildren (Amanda, Ashley, Damian, Sarah, Aiyana, Bella, Kyler, and Maddox) and three great-grandchildren (Alessandra, Neveah, and Augie) that she adored.
Mary enjoyed bowling, softball, bunco, bingo, fishing, and card games, but she is most remembered for her art work. For the past ten years, she created decorative handmade greeting cards and shared them with friends, family, and neighbors.
Mary is survived by her brother, Warren Russell Dufrene Jr. (Carol) of Oregon, brother Jerry Weller of Rockford, IL, brother Russ Dufrene of Maryland, sisters Carol Skapik and Cheryl Withrow of Maryland. Her sisters, Jacqueline Sedols and Donna Dufrene, preceded her in death in 2005 and 2008.
A Celebration of Life service will be held at First Baptist Church of Melbourne on Dairy Road on Saturday, June 16, 2018 at 11:00 am.