Mary "Tess" Bayer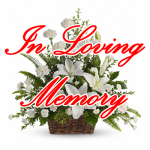 Born in Melbourne, Florida on March 11, 1926
Departed in Melbourne, Florida on October 29, 2019
Mary "Tess" Bayer, 93, passed away on October 29, 2019. Tess was born in Melbourne and lifelong resident. She was a graduate of Melbourne High School, Class of 1944.
Mary's hobbies included sewing, cooking, gardening. She participated in USO activities and dances during WW2
Mary was a devoted mother to three sons, Michael Bayer, John (Terry) Bayer, Bob (Michelle) Bayer; three daughters, Mary (Jimmy) Karp, Carol (Hank) Baron, Jane (Charles) Clary: sixteen grandchildren; thirteen great-grandchildren. She was predeceased by her husband of 56 years, Martin J. Bayer.
Calling hours are on Friday, from 5-7 pm at Brownlie-Maxwell Chapel, with services Saturday, November 2, at 2 pm at St. Joseph Catholic
Church-Miller Street.