Marybelle Harrison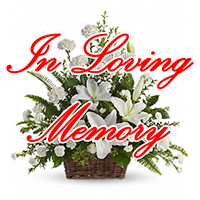 Born in Fenwick, West Virginia on June 8, 1933
Departed in Melbourne, Florida on January 7, 2019
Marybelle Harrison, 85, of Melbourne went home to be with her Lord on Monday January 7th.
She was a native of Fenwick, West Virginia and is survived by her sons Dennis (Kathy) and John (Debra) Harrison, six grandchildren, ten great-grandchildren and two great-great-grandchildren.
Funeral services be held at the Harbor City Baptist Church, on Thursday January 10th at 11am.
10 entries.
Sending are love and prayers your way
Condolences: Sis. Marybell was a faithful member of Grace Baptist Church for over 50 years. She sang alto and I sang the lead to Amazing Grace and we entertain the folks at the nursing home the last few months of her life. What it must be, Face to Face with Jesus Christ in Heaven.
She was a very special lady and their will be a void in your life but know she loved you all and always prayed for her family. Family and God was her life and she lived them both well. A precious soul with Jesus.
Our sympathy is with you and your families Sincerely, Chuck and Jackie
Aunt Marybelle was a beautiful lady inside and out, and she gave "Son-light" from Heaven to all those around her, especially to her family. I am blessed for having known her and the times spent with her. My sincere sympathies and earnest prayers of comfort to all of the family, especially to her sons. She was a godly woman and lived a faithful life. 85 blessed years and a lifetime of loving and impacting others for the better--We should all be so blessed. Rest In Peace, Aunt Marybelle, and say hello to Uncle Carl who welcomes you home to be with the Lord. Love and peace to all.
Marybelle was very special to me as she was like a second mother to me! She babysat me when I was a baby and toddler - we lived next door to her. She would often take me to church with her. I was her special little girl (she had two sons) and she called me "pumpkin" and "puddin". When we moved to St. Petersburg when I was five, I was so devastated and so attached to her that I refused to eat my mom's fried potatoes because they weren't Marybelle's! Marybelle told me when we moved to be a good little girl, obey my mommy, and to love the Lord! I have always tried to do just that! I visited her often throughout my childhood, teen, and young adult years until I moved to NC 12 years ago. She was the last person I stopped to visit when we moved! I rejoice that she has now seen our Savior face to face! Marybelle, I love you with all my heart You impacted my life for eternity! I have tried to honor you with my life by being like you by loving God and loving people! I will always be your little "pumpkin" and "puddin"
Thank you for the love but you showed to me as a child you shall forever be in my heart and I know I'll see you in heaven
Marybell fought a good fight and now she can Rest In Peace.
I love you Grandma, may you rest in peace in the arms of Jesus. Give grandpa a big huh and kiss for me!! I miss you so much
Psalm 116:15 Precious in the sight of the Lord is the death of his saints. H