Michael F. Witkowski Sr.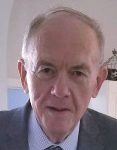 Born in Buffalo, New York on May 2, 1939
Departed in Melbourne, Florida, on May 11, 2019
Michael F. Witkowski Sr., 80 of Melbourne FL passed away on Saturday May 11, 2019. He was born in Buffalo, NY. and a veteran of the US Army from 1962 to 1964. He was a boilermaker/welder and owner of a local restaurant for 35 yrs. Many knew him as "Hungry Mike" a hard working, dedicated family man.
Michael is survived by his daughters, Pam (Mick)Flannery, Debbie (Jeff) Young; son Michael (Peggy) Jr.; 5 grandchildren; Deanna, Alyssa, Sinead, Conor and Ashling. He was predeceased by his wife Arlene M.; sisters Maryanne Wojciechowicz and Rosalie Sieber.
A funeral mass will be held at Ascension Catholic Church
2950 N. Harbor City Blvd. Melbourne FL 32935
at 11:30 AM on Monday May 20, 2019. Burial immediately following at Cape Canaveral National VA Cemetery in Mims, Florida.
6 entries.
Pam, I'm truly sorry for your loss, my heart is with you and your family. May your father rest in peace with mother together in heaven. God bless you. YSIC
Good morning Pam, Deb, and Mike Jr. I will miss Uncle Mike very much. All my memories dating back since I was a child include Uncle Mike. The years helping out at Hungry Mikes, with the Polka music playing on Sunday mornings, are some of my greatest memories. Also, the great laughs we had, and the last several years in Port Saint Lucie Florida where I got to spend those wonderful last years with my parents and Mike and Aunt Arlene- they are all dancing the Polka in Heaven now., and I miss them so much. I hope to see you all real soon. Sorry I couldn't make it to Uncle Mikes Service- Love, Nancy Holland
Dear Family of Mike: I knew Mike as a teenager. We called him, Mr. Magoo." He was sooooo handsome. Drove his father's car, a green Bonneville, and always hung on the corner of Bridgeman and Marion. We all hung on the corner. It was fun. He married my neighbor, Arlene. They were so happy. My love to you all.
Praying for you and your family during this difficult time.
Pam, Debbie & Michael, My thoughts are with all of you. Losing a parent is never easy. Knowing that your Dad is with your Mom should be of some comfort. May the memories you have bring smiles to your faces when the days seem so hard. All my love, Karen xoxo
Rest in peace Dad, i know you are fishing right now with mom xxx!!! See you again someday ! Xo