Mike Spillers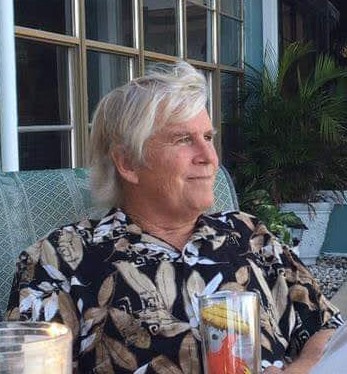 Born on April 7, 1948 in Eau Gallie, Florida
Departed November 10, 2022 in Rockledge, Florida
Lifelong Eau Gallie resident, Mike Spillers, passed on November 10, 2022 after a long battle with dementia. He was the son of Bill and Edith Spillers. Growing up on the Indian river, Mike was truly drawn to the water. He enjoyed fishing with his dad and brothers for the family-owned fish market, Twin Rivers Fish Company. When it came time to live with his wife Patty and raise his daughters, he was able to keep the tradition and continue making memories in the same family house on Pineapple Avenue. He would share his love for the water with friends whenever he could, racing jet skis and sailing the catamaran.
Mike was a graduate from Eau Gallie High School, the class of 1966. While in high school he enjoyed surfing at his favorite spot, 15th street in Cocoa Beach. Mike joined the United States Air Force after high school and served in the Vietnam War as a loadmaster. After serving in Vietnam, Mike returned to his home and started working at Sears where he met his wife of 44 years, Patty Flanders. She survives along with their daughters Ashley Spillers and Rani (Steven) Urbanski; sister June Paramore; brother Greg (Peggy) Spillers; sister-in-law Susie Spillers; grandchildren Nolan and Coraline.
He was preceded in death by his son Daniel and brother Sandy.
In the late 70's, Mike became a swimming pool contractor for Florida Pool and Spa. He continued as a contractor for them up until his retirement 35 years later. He would often bring blueprints home to show off the beautiful plans he was making for families. Mike enjoyed helping families build the pool of their dreams. He made many lifelong friends while working in this industry.
Music was also a huge part of Mike's life. He loved listening to classic country western, blues, and Southern rock. He attended thousands of concerts and owned over a thousand albums. Mike Spillers lived life to the fullest and cherished all the relationships he built along the way.
We will celebrate Mike with a military service at the Eau Gallie Cemetery on Saturday, November 26th, 2022 at 11:00 am.
13 entries.
We will always remember you. Such a great and kind man.
Love you cousin Mike, sharing a birthday with you made me feel special. Growing up with you was more like brothers than cousins.
Beautiful words. 😍 Your Dad had a full life. I could feel all the love around him. 🐟🐠
Such a kind good man always up beat. He treated everyone fairly never had a bad word to say about anything. Will be missed.
Mike was a great guy. Loved life, his family and friends. I will always remember his stories of growing up on the banks of the river in Eau Gallie. Rest in peace.
Sad to hear about Mike. I haven't seen him for over 20 years, but I still remember playing softball with him on the St. Johns team. Mike was a good guy.
I thoughts and prayers go out to you and your family love and hugs
May he always Rest in Peace 🙏
Uncle Mike was a great man and I have lots of good memories spending time with him, Aunt Patty, and my cousins. He will be missed but not forgotten. With love Paul and family.
One of the nicest people I ever met. We where in the 5th grade and same school till graduation 66. R.I.P. ole buddy. Lamarr
Dear Patty and family. We are so sorry for the huge loss you all feel. Mike was a good man and great friend. Our whole family loved him. Much love and many prayers.
We love you daddy, and miss you everyday.