Mildred Ward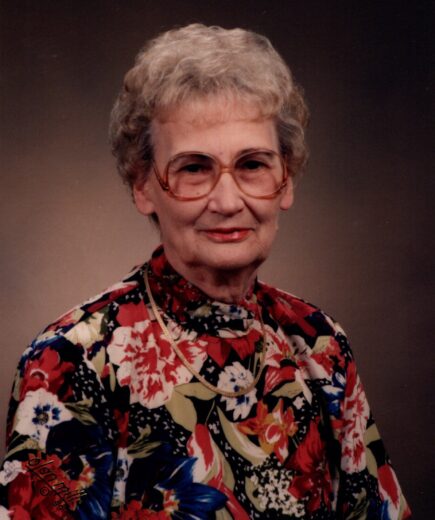 Born on September 3, 1923 in Tifton, Georgia
Departed September 21, 2022 in Melbourne, Florida
Mildred Edwards was born to Zabriel and Irene Edwards on September 3, 1923 in Tifton, Georgia and passed away on September 21, 2022 in Melbourne, Florida.
She became Mildred Ward when she married her husband Cecil in June of 1942. The family moved to Melbourne in 1948. She began to work for McCrory's Corporation in 1949; rising through the ranks and winning many sales awards including manager of the year for the entire corporation. She retired in 1986. Upon arriving in Melbourne in 1948, she joined First Baptist Church. After the passing of her husband Cecil in 1987, she devoted many hours in various activities at her church. Mildred supported Seafarers for more than 20 years. She was a devoted servant of God.
She was preceded in death by her parents Zabriel and Irene; husband Cecil; brothers Roy and Curtis and sister Lou Janney.
Mildred is survived by sister Nadine Baker of Jacksonville, Florida; son Jim and wife Janet Ward; grandson Kevin and wife Natalie Ward and great-grandson Jake; great-granddaughters Avery and Kate. Mildred is also survived by her grandson Jeff and wife Leigh Ann Ward; great-granddaughter Kaelyn and great-grandson Heath. She is survived by her daughter Trisha and husband Dan Nicholson and grandson Ryan as well as many nephews and nieces.
She was a very independent woman who traveled with her two widowed sisters through many states and countries overseas. She loved her family and would talk tirelessly about everything, especially all of her grandchildren and First Baptist Church. Pastors Larry Bazer and Scott Wilson were her ministers for more than half of her 74 years of membership. She held both in high esteem.
All of our family knows that she is with her heavenly Father and will forever be in a land that is fairer than day. She will be greatly missed by her earthly family. She was dearly loved and will rest in peace in all of eternity.
We extend much appreciation to Dr. Hagloch and Dr. Swain, along with their staff, as well as all of the employees at Vitas Hospice.
In lieu of flowers please consider a donation to First Baptist Church of Melbourne.
Mildred's memorial service will be on Saturday, October 22 at 1:00pm at First Baptist Church of Melbourne, 3301 Dairy Road, Melbourne, 32904.
3 entries.
Trisha and Jim, my thoughts and prayers go out to you. I wish for you both peace and comfort from many fond memories
Our prayers for you and your family. We hope to see you on Saturday 10/22.
May peace and love be with Mildred and all of you at this time of need. She was truly a wonderful lady through the years that I knew her, and saw her on a regular basis, at our local McCrory store on Eau Gallie Causeway in Indian Harbour Beach back then. I even had the pleasure of working there for her at times, and she was truly a great people person and influencer as a business person and mentor. Rest in Peace wonderful lady! And blessings go out to all the family!