Nancy Coriell Ostlund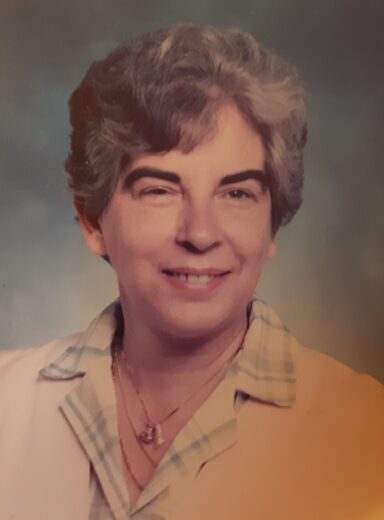 Born on March 21, 1941, in Green Valley, Illinois
Departed April 11, 2023 in Melbourne, Florida
Nancy Coriell Ostlund died peacefully at home in Melbourne, Florida, on Tuesday, April 11, 2023, following a brief illness. Nancy was born March 21, 1941, in Green Valley, Illinois. Nancy graduated from Green Valley High School and earned B.S. and M.S. degrees in Business Education from Bradley University.
She was married to Mel Ostlund, who preceded her in death. She is survived by son Steve Coriell, stepdaughter Victoria (Erik) Donhowe, and stepson Scott Ostlund.
Nancy taught business education at Melbourne High School for 29 years. She and Mel also had a home in North Carolina where she spent summers for many years. She loved making latch hook rugs and pillows.
Nancy's parents were Marie and Harold Coriell, who preceded her in death. Nancy had two brothers and two sisters: Leon (Kathy) Coriell and Doug (Jeanne) Coriell, both brothers are deceased; and Dorothy (Jay) Green and Diane Coriell, who live in Green Valley. She is also survived by many nieces and nephews, with whom she kept in touch.
Memorial service and internment of ashes will be held in Green Valley. In lieu of flowers, memorial donations may be made to the donor's charity of choice.
3 entries.
We loved Nancy, she has been a part of my family from when I was in my 20s. Close friends of my dad and mom, Joe & Jan Phillips, she was always over for the holidays. I could always count on bringing home some of her special snack mix, she was so generous. I just saw her at Christmas, and will miss her at our next holiday. I remember Mel & Nancy's wedding gift to Jeff & I; letting us use their cabin for our honeymoon. She and I would talk about the changes in the area, and the cow with the bell, walking down the mountain. I still have the many latch hook rugs she gave me, she was such a giver. She will be missed.
Nancy was the first person I met when I came to Florida except for those I met when applying for a job in the fall of 1971. She had just moved to Brevard County, too. We lived on opposite ends of a a tri-plex on the beach in Indialantic. We both were teachers, taught the same classes. She taught at Mel High; I taught at BCC. She was from Illinois; I'm from Indiana. After retirement, we met regularly for lunch--unless she was in North Carolina. We kept up with each other's families and had so much in common. I will miss her.
Nancy and Mel were second parents for my art-talented son, Charley. I'm so thankful for their hospitality, guidance, respect and love!