Nancy Naughton Fletcher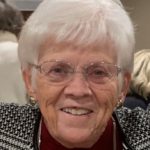 Born on December 10, 1941 in Morristown, New Jersey
Departed in Melbourne, Florida on February 22, 2020
It is with great sadness we announce that Nancy Naughton Fletcher, 78, of Melbourne, passed away unexpectedly on Saturday, February 22, 2020. Nancy is survived by her husband Bill of almost 60 years, her high school sweetheart and love of her life; by her three sons, Scott, Kevin, and Brian, their wives Barb, Jennifer, & Carla, 8 grandchildren Kelsey, Kyle, Justin, Alex, Nick, Emily, Blake, & Jamie, her 2 granddaughters-in-law Rachel and Betie, her sister Bonnie Vaughn and her family, her sister-in-law Marcia Denius and her family, and her nieces Tammy, Tracy, Mindy, and Amanda and their families. Nancy was preceded in death by her parents John & Vene (de Roxtro) Naughton, her younger sister Peggy Broyles and husband Doug Broyles, and her daughter-in-law Robin (Piacenza) Fletcher.
Born in Morristown, NJ, on December 10, 1941, Nancy moved to Melbourne with her parents and sisters in 1957. When she walked into Melbourne High on the first day with her sister, Bill caught sight of Nancy and their love story began. After graduating from high school, Nancy attended the University of Florida, married Bill September 3,1960 while still a student, and nurtured her family as Bill embarked on his Army career. Nancy kept the home fires burning while Bill was deployed in Vietnam and Korea, raised their sons, finished her Bachelor's degree, and began a rewarding career in Market Research in several St. Louis and Chicago companies, eventually becoming a Vice President. Nancy and Bill retired to Florida in 2004, coming back to the Melbourne area, and became active in their new community, Indian River Colony Club.
Nancy was known for her generosity, compassion, energy, and willingness to help others. Unconditional and constant love for family was a passion for Nancy. Her children, grandchildren, as well as nieces, nephews and many close friends always felt Nancy's love throughout their lives. Her grandsons Kyle and Justin's marriages to Rachel and Betie were very heart warming events in her life.
Nancy loved to cook, read and she played golf regularly. She cross-stitched for years, played piano, and could best you in ping pong or wiffle ball . Her latest project was compiling many favorite family recipes into a Fletcher Cookbook, assembling and gifting these books to the younger generation of the family. And you could always find chocolate in Nancy's cupboard and ice cream in the freezer, her favorite treats.
Services will be held on Saturday, March 7, 2020 at 1 pm at Holy Trinity Episcopal Church, 50 West Strawbridge Avenue in Melbourne. In lieu of flowers, the family suggests donations to Holy Trinity Episcopal Church Memorial Garden Fund, www.holytrinitymelbourne.org.

4 entries.
To the Fletcher Family, You have our deepest sympathy! We loved Nancy and were so thankful to see you all in December. You are in our prayers! Pam and Paul
So sorry to learn of Nancy's passing. My condolences to Bill, Bonnie, and the extended families.
My dearest friend of 42 years I will always remember our good times Vaya Con Dios
I'm so sorry to lose Nancy from our big group of old Melhi alumni. I'm better for having known her. She showed such courage dealing with aches and pains. My heart goes out to you, Bill.