Pamela J. Ford Millar
PAMELA J FORD MILLAR
Pamela joined the angels of heaven March 3rd after a long battle with a debilitating disease. Pamela was born November 1953 at Wheels AFB in Tripoli, Libya and is preceded in death by her parents Otto and Charlie Mae Ford and her sister Sherri. She is survived by her loving husband Don, stepsons Christopher, wife Ariana, Kenneth, wife Ginny, Matthew, wife Sheina, 8 grandchildren, her sister Melanie, niece Juniper and nephews Brandon, wife Sandy, Dustin, Bryan, wife Lealane and Theodore, partner Kevin, 3 grand-nieces and 4 grand-nephews.
Graduated from Eau Gallie High School (EGHS) 1972 she was in Alpha-Omega, Tri-Hi-Y, C-Gulls, and the Commodore year book staff. She graduated from UF with History and Forestry degrees. Worked as a forester/manager for Proctor & Gamble and Buckeye for 30 years and retired.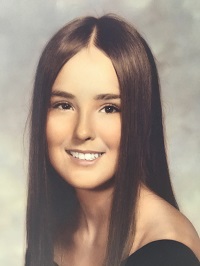 Pam loved walking on the beach especially for sunrises and sunsets. She enjoyed hiking and hosting an annual ladies only canoe weekend for life long friends and canoeing when the opportunity offered.
Being an Air Force dependent started her love of traveling. So sharing a trip each year to someplace special like Italy, Germany, France, Holland, Mexico, Spain, Greece, Egypt, China, Israel, Peru, Ecuador, Galapagos Islands, Windjammer and other cruises with family or friends was important to her.
Pam requested to not send flowers but to donate to the following charities.
Alachua Conservation Trust, link
or
The Heifer Project, link
Service will be 2PM May 1st at St Johns Episcopal Church Melbourne
610 Young St, Melbourne Fl 32935
3 entries.
It was a privilege and a joy to have known such a special person. Godspeed.
May God's angels carry you into heaven where there is joy and happiness forever.
A lovely lady who was admired and loved.