Patricia E. Gibbs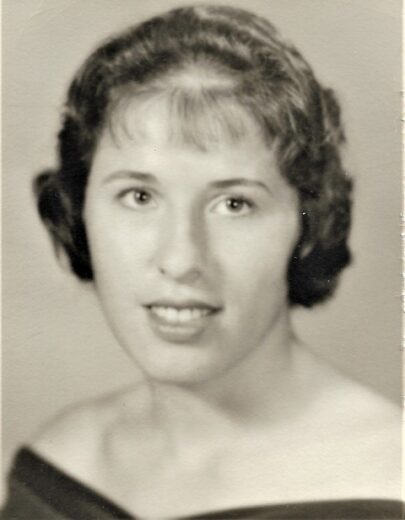 Born on February 1, 1944 in Bronx, New York
Departed October 30, 2022 in Melbourne, Florida
Patricia "Pat" as she is known to all her family and co-workers passed on October 30, 2022. She was born in Bronx, New York and came to Brevard County in 1956 to South Patrick Shores with her beloved mother Evelyn Smith and brother Elliot Smith. Pat was preceded in death by her beloved brother Elliot in 2020 and her mother Evelyn in 1970.
She has two sons Robert Gibbs of Palm Bay and Scott Gibbs of West Virginia as well as four grandchildren Kyle Jones, Curtis Gibbs, Serena Gibbs and Damian Arce; and one new great granddaughter Arabella Rodriguez.
Pat worked in the defense industry for the former DBA System which is now L-3 Harris for 37 years as a Senior Financial Analyst after working her way up from the accounting department.
She was a Melbourne High School graduate, class of 1961, where she was an honor student and also played softball and women's basketball. A little known fact about Pat is she had planned to become a doctor and had been accepted to medical school at St. Johns University in New York. Instead, she married Chris Gibbs for 23 years.
In lieu of Flowers, please consider donations to the National Kidney Foundation:
National Kidney Foundation
8 entries.
Pat was an fabulous co-worker and friend for many years working at DBA/Titan/L3. I pray her last days were comfortable and her family near her. May she rest peacefully in God's arms.
Bobby and family, you have our condolences for your loss. Pat was much loved and will be missed. A very good friend, coworker and lunch partner. She loved her boys, grandchildren and that new great granddaughter. So very sorry, Ray and Sharon Hochstetler
She was a wonderful friend
Our condolences from the Feight family our thoughts and prayers are with the entire Gibbs family. We thank you for raising such a wonderful son who has been a joy to have as a lifelong friend of our family. I know Rob will be missing you greatly he always loved his mom very much and spoke highly of her. Rest in peace
She was a great friend. Always kind and helpful. We worked many years together in the accounting department at DBA Systems and had lots of good times. She will be missed by many.
Knowing you Robert, I'm certain your Mom was a great woman. I would liked to have met her♥️ Thinking of you as you celebrate your Mother's beautiful life. She will live on in your heart.
To Robert I'm sending my condolences to you and your family. Your classmate
Love and prayers my dear cousin. Aunt pat was a special person. My favorite memories were of her taking us to mickey's very christmas party every year. She was very kind to me and i will miss her.