Patricia Sullivan Shea Rivera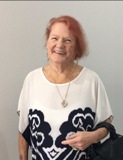 Born in New York, New York on April 3, 1941
Departed in Melbourne, Florida on January 15, 2019
Patricia Sullivan Shea Rivera, 77, of Melbourne passed away on Tuesday January 15, 2019. A native of New York she was a loving mother, grandmother, great-grandmother and great-great grandmother. She was a member of the Blessed Sacrament Catholic Church in Brooklyn and loved vacationing with her family and swimming.
Survivors include her husband Michael, daughters Eileen (Raymond) Diaz, Patricia, Diane, Sons James (Vittoria) Shea, Michael (Claudia) Rivera, Mark, many grandchildren, great-grandchildren and one great-great-grandson. A celebration of her life will be held on Friday January 18th from 3pm – 6pm with a service at 4pm in the Brownlie & Maxwell Funeral Chapel.
Donations in her memory may be made to the Wounded Warrior Project. www.brownliemaxwell.com
6 entries.
Lucy and I share lots of memories of her and the family. And we saddened for her passing .
My deepest sympathies to the family - RIP Pat
Rest easy mom... you were a wonderful mother in law and friend. I'll miss you, but the memory of the way you were will live forever. RIP
May God's perpetual light shine on Patricia from this day forward. My sympathies.... Love, Kevin J
A loving woman who always put her children first. You will be greatly missed. I pray for great grace and peace for her family
Rest In Peace Grandma, you were always the sweetest to me and I know that you loved your family so very much!! They all loved you just as much, you will be missed. My condolences Eileen, Tanya and the entire family. You are in my prayers.