Patsy Knecht Wasneski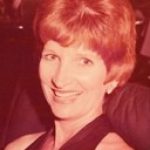 Born in Palm Bay, FL on Jan. 16, 1936.
Departed on February 14, 2018 in Melbourne, Florida
Patricia (Patsy) Knecht Wasneski, 82, passed away peacefully at home on February 14, 2018.
Patsy was born in Palm Bay and lived her entire life in Brevard County, but with a passion for adventure, traveled extensively to all parts of the United States, Europe, Africa and Asia. Her husband, Joseph Wasneski, preceded her in death. Patsy's generosity and loving spirit will be missed by all in her extended family, and circle of lifelong friends. She leaves behind her dear niece, Kelley (Dwight) Hall and nephew, Steve Knecht, as well as step-children Joseph (Yu Chen), Barbara (John McReynolds) and Jim, her grandchildren Kathryn (Tim) Mauer, Philip (Megan) Wasneski and Joseph (Amy) Wasneski, several other nieces and nephews: Cathy Cummings, David Knecht, Cheryl Johnson, Thomas Knecht, Theresa Knecht, Debrah Siebenthal and Sharon Rowe, her sister-in-law, Martha Knecht, and numerous great nieces, nephews, and grandchildren.
A memorial service will be at Brownlie & Maxwell, 1010 E. Palmetto Ave., Melbourne, on Saturday, March 24, 2018 at 10:00am.
In lieu of flowers, donations may be made to the Vitas Healthcare Foundation.