Penny "Mammo" Kendrick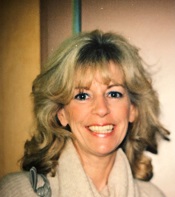 Born January 14, 1942 in Oshawa, Ontario, Canada.
Departed on January 19, 2021, in Indialantic, Florida
Penelope Joy Fluke Kendrick, who loved to be called Mammo by her grandchildren, David and Andrew, departed her loving family on January 19, 2021.
She was Daughter to John and Lillian Fluke, and is predeceased by sister Dolores, and brothers Bob and Gary. She is Mother to Hillary Young and Mother-in-Law to Russ Young. Grandmother to David and Andrew. She lived in Ontario, Canada, Michigan, Illinois, Ohio, North Carolina and Florida.
She was a devoted homemaker, a broker in Florida and North Carolina, and a super nanny in Florida. Her hobbies included gardening and various forms of artwork, including showing in state art shows with macrame.
Penny is survived by brother David Fluke and sister-in-law Lia; brother-in-law Bob Hitchinson; sister-in-laws Patsy Fluke and Clare Fluke; Nephews Peter and David, John and Chris, and Dalton and Shaun; Nieces Susie, Kimberly, Sheena, and Jennifer.
Services will be held graveside at 1:00 pm on Monday, January 25, 2021 at Fountainhead Memorial Park, in the Garden of Peace, in Palm Bay, Florida.
Anyone planning an expression of sympathy is asked to consider Mom's favorite charity, The Second Harvest Food Bank of Central Florida in Orlando, in Penny's name.
Feed Hope Now
10 entries.
This has been just too hard to write... but it's been more than a month and I think I can finally share... We've been privileged and utterly blessed to have Penny in our lives. She'd been Anderson's (our son), nanny since he was 3 months old. From early on, they forged a special bond and built such a connection that us simply calling her Miss Penny would not do... she lovingly became his "My Penny." She was his and he was hers. Penny delighted in Anderson's every obsession from dinosaurs to Harry Potter to Pokemon, back to Harry Potter then Star Wars and old movies; she doted on his every success, cheered him on at baseball games, flag football and Tae Kwon Do, and she fiercely protected him when he was bullied in school or defended him when a teacher was seemingly too harsh and unfair. Even as he grew up and no longer needed a nanny, he loved spending time with her, watching old movies, singing songs, sharing tea, - he was so happy to introduce her to a new matcha green tea at their last "tea party". Over the last nearly 16 years, we've celebrated birthdays and holidays, dinner dates, tea parties, playdates, hurricane recovery sleep-overs, and movie nights. She sometimes watched Anderson while we went on vacation and sometimes, she even went on vacation with us - to the beach or glamping at Disney and once even to Alaska on a cruise, thus checking both Alaska and a cruise off her "bucket list" a few years ago. Penny's been our emergency contact for Anderson at doctors' offices and schools and when we go on vacation for so long. I don't know how I'll ever be able to remove her number from my "Favorites." Penny may have been Anderson's "My Penny," but the love and affection we have felt for her has made her "our" Penny and a part of our family. We will forever and always love Penny, but we know we must take comfort knowing that she will be looking over us from Heaven above. Until our next big hug... 💕
Our Penny: I was so fortunate and privileged to have met Penny 25 years ago when I placed an ad in the local Treasure Chest flyer for a part time nanny for my baby. I had interviewed several people but sensed something very special about Penny. So started our relationship. My son was the first of many children Penny would then care for over the years. She had such a caring heart for children and animals, and I believe she unknowingly opened my eyes to love better. To this day, I cannot eat toast or drink tea without always thinking of her. She left a loving impression on my heart that will live on forever. Now you have your angel wings dear Penny. Love you and will see you again.
Aunt Penny was such a light! Her laughter would make you smile...it was always filled with true heart. Penny had a special relationship with her big sister. I was privileged to witness some of it at the end of my mother's life. Aunt Penny was always calling, sending notes, and gifts to let my mom know she was thinking of her...there was this purple scarf (Penny knew her sisters favorite color) sweet Penny made it herself. My mother loved that scarf wore it all day long even when it was warm outside. I know that Aunt Penny and my Mom are now reunited with their other siblings in heaven. Joining their mom (grandma Lilian) once again ....your light will truly be missed ❤️
I have such fond memories of her growing up as a child. Hillary, I am so sorry for your loss. Losing your mother must be devastating. Sending you all my thoughts and prayers.
Penny to me, was and will always be, Beautiful Miss Penny. Penny is graceful, kind, intelligent, oh so funny!, and 'sharp' just at the right time! Her Beauty is completely apparent. I will always have in my cup of green ginger tea, all of the fond remembrances of the times I shared with Penny. But we'll meet up for tea again, I am certain. I love you, Penny.
Dearest Hillary and family So sorry for your loss of your beautiful mama. Tho your heart is breaking, with time all your precious memories of her will mend it. Mothers may leave us, but they never really leave us. All our love, Kerri , Marty,Winter,Journey and Tesla💕
Penny to me, was and will always be, Beautiful Miss Penny! Penny is graceful, kind, intelligent, quite funny, and 'sharp' when necessary! Her beauty is so apparent. I will miss her, but look forward to our next meeting. Every cup of green ginger tea will include my most fond remembrances of my Beautiful Miss Penny.
Rest in Peace dear Penny. "You have fought the good fight. You have finished the race. You have kept the faith. " Penny was David's big sister and as such she always looked out for him. She will be remembered for her devotion and loyalty to her family, and for her special love of young children and animals. Penny had an inquisitive mind, was a quick study on a variety of topics and always had a 'take charge' attitude. We will miss your infectious laugh, Penny. Fly high with the angels. You have earned your wings.
Penny will be in our hearts. I'm Hillary's Mother-in-law and I'm so proud of her devotion to Penny and I know Penny's proud that she raised a beautiful child with a caring heart. God Bless Hillary, Russ, David and Andrew.jj
Penny was a lovely lady who enjoyed opening her home to friends and family, took great pride in her daughter and her grandchildren.and will be missed.