Penny Yvonne Gibson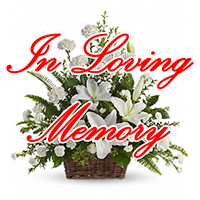 Born in Akron, Ohio on September 18, 1948
Departed in Melbourne Village, Florida on December 14, 2018
Penny Yvonne Gibson, 70, of Melbourne Village, Florida passed away Friday December 14, 2018 at her home. She was a native of Akron, OH and attended Calvary Chapel.
Survivors include her husband James, brother Rodney (Cherry) Smith, and brother in Law Charles (Charlene) Gibson. A Celebration of her life will be held on Saturday January 19, 2019 at 11AM in the Brownlie & Maxwell Funeral Chapel. Donations in her memory may be made to to Hospice of Health First.
1 entry.
Penny had a brother named Darrell and a Niece named Cristie that was not mentioned in the list of surviving family, or her mother Geraldine was not mentioned or her father Bob. Why?