Ray "Bo" Arnold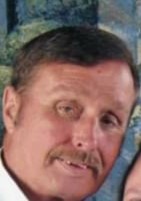 Born February 9, 1954 in West Melbourne, Florida
Departed April 2, 2022 in Melbourne, Florida
Ray "Bo" Arnold, 68, of Melbourne, passed at home with his family on April 2, 2022. He was born in West Melbourne, Florida on February 9, 1954 to Bill Lewis and Martha Lemieux Arnold.
His family includes his wife of 35 years Mary Arnold; sons Chad (Jennifer) Loseke and James (Bobbi Jo) Arnold; daughter Jennifer (Reynaldo) Cortez, son Joseph Arnold; father Bill Arnold; sister Billie Hayes; brother Sonny Arnold; sister Debbie (George) Fust; grandchildren Hannah, Stanley, Haley, Anthony, Heaven, Brantley, Tobias and Allison.
He was preceded in death by his mother Martha Dennis; mother Jean Arnold; sister Marlene Mullins; twin granddaughters Paisley and Aubrey and twin grandsons – Landon and Enzo.
Bo was a student at University Park Elementary, Southwest Junior High, and Melbourne High School. He worked at Deseret Ranch in Deer Park, Florida before becoming a heavy equipment operator. He also worked as an over the road trucker, which allowed him to take his kids with him to explore the country over their summer breaks.
He loved his family more than anything and was obsessed with his grandchildren. He loved the rodeo life with his children. He appreciated traveling to new places and going on cruises. An outdoorsman through and through: Bo enjoyed fishing, hunting, and traveling to our family camp in Greensboro, Georgia. His two Basset Hounds, Shawnee and Choctaw, brought him a great deal of joy. A straightforward man that would give the shirt off his back to those in need, Bo will be greatly missed and his memory thought of often.
Please join Bo's family for a celebration of his life at 6 pm on Friday, April 8, 2022 at Brownlie Maxwell Funeral Home, 1010 E. Palmetto Avenue, Melbourne.
3 entries.
We loved you Bo! We were very blessed to have you in our lives! You made Mary happy with a beautiful family. You will be dearly missed. We are both so grateful we had a nice day with you before you left us! Go enjoy your family in heaven and we will see you again someday.
Bo will definitely be missed. Great man, and loved his entire family so much. I spent many great times with the Arnold family which leaves me with memories I will never forget. Love you all.
Rest In Peace, You will be missed Uncle Bo ❤️