Rebecca Melitas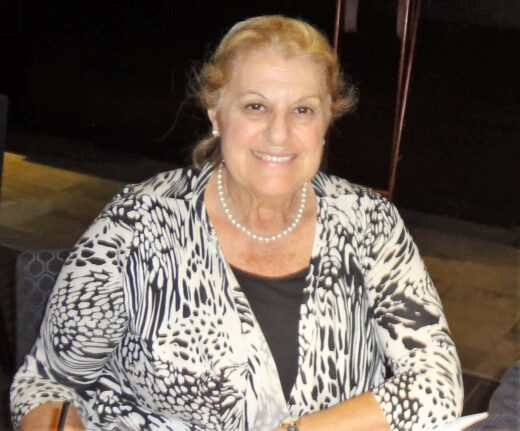 Born on December 22, 1945 in Athens, Greece
Departed January 2, 2023 in Melbourne, Florida
The Falling Asleep of Rebecca Melitas
With great sadness we announce the passing of the servant of God, Rebecca Melitas, and we pray for the comforting embrace of God. She was 78 years old. She was a beautiful and beloved daughter, sister, aunt, Nona (Godmother), wife, mother, Yiayia (Grandmother), and friend to many.
Born in Athens, Greece as Panayiota she was the second youngest of four daughters of the Hatzigrigoriou family. When she was very young the family moved to Sydney, Australia because of the difficult times after World War II and the family name was Anglicized to Gregory. As a baby she was called Bebeca which later became Rebecca. She grew up in a loving home in the suburb of Blakehurst and her father owned a butcher shop while her mum raised the girls. She loved being an Aussie but never forgot her mother country Ellada. She was proud of her Greek family heritage and spoke fluent Greek and English. Growing up in Australia she enjoyed the beach, playing softball, and developed her great Aussie accent. One of her first jobs was a bank teller where she learned the importance of working with people and arithmetic. She later became a travel agent and setup a trip of a lifetime with an around the world cruise with her mum and one sister. On this trip she met her future husband in Athens and she saw America for the first time, a place she only knew through the movies but knew she wanted to come back.
Marriage brought her back to America, settling in Chicago. She embraced her new home and the American dream. Always motivated and a self-starter, she enrolled in college and earned a degree in architectural technology. Her career in architecture began with working on the designs of multistory buildings. Mesmerized by complicated drawings, her mentor told her words she remembered throughout her career in architecture: it all comes together one line at a time. She and her young son moved to the Melbourne Florida area in the early 1980's. As a single mother with a lot of responsibility she managed to do it all, including travel to Greece and Australia to visit family. The island of Kythera in Greece was always a special place for her as much of her family is Kytherian. Working for architects and later starting her own company she designed many exquisite homes and commercial buildings in the area. She also designed and oversaw the construction of two of her own homes. She built her dream house in Floridana Beach, a beachside community she embraced and had many good friends. She enjoyed playing tennis and had many good friends through tennis. She enjoyed dancing, fishing, painting, and gardening, especially roses. After many years in America, she was proud to become a citizen and recently celebrated fifty years here. Blessings from God and hard work made her American dream come true. Her happiest and proudest moments were as Yiayia to two grand children who she adores. She enjoyed watching them laugh, play and sing; and God willing, she will continue to watch them grow from heaven.
A good friend to many, she enjoyed helping people and charitable causes such as Daily Bread. She was a glass half-full, positive person, full of energy, always encouraging people to do and be good, and convinced a few people to quit smoking. She embraced Saint Katherine Greek Orthodox Church and volunteered at festivals and other events. She shared her Christian faith and was thankful to God for his many blessings. One of her favorite Bible passages is from Matthew: Look at the birds of the air, for they neither sow nor reap nor gather in barns; yet your heavenly Father feeds them. Are you not of more value than they? So why do you worry about clothing? Consider the lilies of the field, how they grow; they neither toil nor spin; and yet I say to you that even Solomon in all his glory was not arrayed like one of these. She would ask as encouragement: who do you think made the flowers and the birds?
She will be very much missed by her family and friends, and we are hopeful and pray for God to give her comfort, serenity, and peace and to reunite us in His embrace. She is survived by her sisters Vasso and Dimi, son Nick (Julie), and grandchildren Elaine Panayiota and Kosmas.
Her funeral will be Saturday, January 21st, 2023 at Saint Katherine Greek Orthodox Church, 5965 N. Wickham Rd., Melbourne, FL 32940, with viewing at 10am, Funeral Service at 11am, followed by her burial at Florida Memorial Gardens Cemetery, 5950 US-1, Rockledge, FL 32955. Following her burial service family and friends are invited for a Makaria meal together, traditionally a meal of fish, at River Rocks, 6485 South US-1, Rockledge, FL 32955. In lieu of flowers, please consider donations in her memory to Saint Katherine Greek Orthodox Church and/or to Daily Bread Inc., 815 E. Fee Ave., Melbourne, FL 32901.
May her memory be eternal!
St. Katherine Greek Orthodox Church