Richard Deane Plew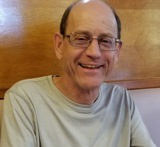 Born in Linton, Indiana on February 17, 1951
Departed in Palm Bay, Florida on March 5, 2019
Celebration for Life for Richard Deane Plew
 Friday, March 8, 2019, 5:00-7:00 p.m. at Brownlie-Maxwell Funeral Home, Melbourne, FL
 Saturday, March 9, 2019 12:00 p.m. at Tomoka Christian Church,
We are here to Celebrate the Life of Rich – husband, father, grandfather, brother and uncle – roles that he faithfully and joyfully fulfilled as an obedient son of Christ. Rich began his life in Linton, IN born to Francis and Alice Plew. He was the middle of three children, Larry as the older brother and Joyce as the younger sister. His father, a pastor, and his mother, a homemaker. Older brother, Larry began the "Plew-Engineering-Tradition" which Rich next adopted, graduating from Rose-Hulman University in Terre Haute, IN. While there, he met Kay Ann Sowers who was completing her elementary education degree at Indiana State University, also in Terre Haute. A few years later, Rich and Kay promised to honor one another and their Lord for eternity in a wedding at Kingman Christian Church, her Indiana hometown, establishing a life-long marriage of 44 years. A few years later, their first son, Jason was born, eventually becoming an engineer followed by their second son's birth, Jeffrey – of course – also becoming an engineer.
In the early 80's, as a new employee of the Harris Corporation, the Plew family landed in Melbourne, where the boys grew up and where the family became committed members of Palm Bay Christian Church, now Tomoka. Over the years, Rich served the church extensively as an elder, a teacher, and a volunteer. He retired from Harris after 35 years and immensely enjoyed retirement with all of the family, especially the grandchildren. Known as "Boppa," Rich teased, tickled and wrestled with them, grinning widely with open arms, upon their running into the house and onto his lap in his Lazy-Boy recliner. His grandchildren included James and Rebekah, Jason's son and daughter, of Palm Bay and Thomas and Adrian, Jeffrey and Veronica of Pembroke Pines, FL kids, with all grandchildren likely to be future engineers.
Rich relished the role of fun-loving, "Uncle Rich. " His clan included Tara, daughter of his brother, Larry and his wife, Lynne, of St. Cloud, FL. Tara (who, naturally, is an engineer) and lives in Beavercreek, OH with husband, Rob. Rich's sister, Joyce and husband Brett Fritschle live in Claremont, IL with two grown children, Jacob married to wife Rachel, also living in Claremont and Jenna married to Brian, living in Godfrey, IL. Great-nephews and nieces include Levi, Alayna, and Alexia. Rich was a fun uncle for the children of Kay's sister, Jo Ellen and brother-in-law Alan Weems of Whiteland, IN, and for whose children, Tyler and Nathan he was famous (or infamous) for taking them on roller-coasters.
As is evident, Rich's life was one of service – to God, to family, and to the church. As a memorial in lieu of flowers, gifts may be made to Christ's Hope International, a body of Christ dedicated to caring for AIDS-affected, orphaned, and vulnerable children and where Rich and Kay sponsor two children, https://christshope.org/ We appreciate your sharing this time of Celebration of Rich's Life.
2 entries.
Hi Kay, my deepest sympathy for your loss. Wishing you strength during this sad time. Sending thoughts and prayers your way. Jorilet
Our thoughts & Prayers are with all of Rich's family. I had the pleasure of working with Rich at Harris, and since I worked with our F-22 FOTR Suppliers, Rich & I traveled to LA for Rich to help guide one of our Suppliers' test engineers on the test program Rich wrote for our FOTR Rx. I know Rich is in Heaven with our LORD & Savior Jesus Christ, so I will see him again! My heart does hurt for his family, who will miss him tremendously. Again, Praying for GOD's Peace & Comfort to be with you all in your time of loss. Roy Lealman >