Richard Lee Williams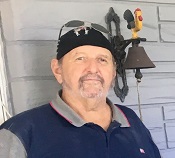 Born on October 1, 1952 in Charleston, West Virginia
Departed in West Melbourne, Florida on May 29 2020
Richard Lee Williams, 67, of Melbourne passed away May 29, 2020 in West Melbourne. He was a native of West Virginia and a retired Heavy Equipment Operator.
Survivors include his sons Daniel, Chad Williams and Christopher Wolcott, 4 grandchildren, sisters Kathy Saurel, Angela Isaacs and Diana Williams, brothers Larry, Gregory and Steven Williams. He was predeceased by his parents John and Audrey Williams and a sister Barbara Miller.
Rick will be missed by all his family and friends. But, dearly loved in all our hearts forever and always.
A Celebration of his life will be scheduled soon. All family and friends will be notified in advance.
Rest In Peace… Dear Brother and Father!

2 entries.
Rick will be miss he was like a father to me and he was good to my mom. he will be missed very much my prayers goes to the family RIP Rick love your adopted duaghter jeannine
My special friend, I will miss you immensely. I will never forget our long talks and the many laughs and good times we shared. I know you are now pain free and finally living your best life! I look forward to seeing you on the other side. Much love, Pat