Robert A. Boska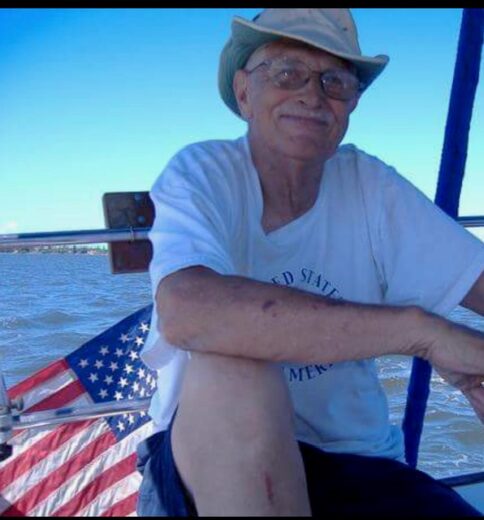 Born February 11, 1932 in Detroit, Michigan
Departed September 30, 2023 in Rockledge, Florida
Robert A. Boska, 91, was born in Detroit, Michigan on February 11, 1932. He entered into Heaven, Saturday September 30, 2023 from Rockledge, Florida. He completed High School in Washington D.C. before joining the United States Coast Guard in March of 1949.
After Bob served with the USCG, he planted his roots in St Petersburg, Florida. He worked for small electronic repair companies before accepting a position with RCA that started his life long career at Patrick Air Force Base, Florida in 1958. Robert's retirement following his career with RCA, GE, CSR, and Raytheon was in the year 2000. He had many hobbies that included sailing, motorcycling, camping, and woodworking.
Bob was a long life member of the Ascension Catholic Church in Melbourne, Florida. His greatest loves were God, his country, and his family. Robert was the proud father to his daughters Arita Cook (Tom) and Gail Martin (Rusty), son Peter Bohannon (Eva), and granddaughters Kendra and Zoey Cook, Tamara Walden, and Kaitlyn Martin.
A Funeral Mass celebrating his life will be on Thursday, October 26, 2023 at 1 pm at Ascension Catholic Church followed by US Coast Guard honors. Burial will be at Cape Canaveral National Cemetery on Wednesday, November 1, 2023 at 2pm. Please arrive at 1:45 pm and park in lane A.
13 entries.
Gail and family - i truly struggled with what to write. Your father was one of a kind, and his warmth and kindness will never be forgotten by those who were fortunate enough to have known him. No one can fill the emptiness that your dad's passing has left in your life. But knowing your dad; his spirit will bring you strength and the whole family during this sorrowful time. The best thing is dad will bring you laughter for the many great times. Love to you and the family. I miss you dearly and Love to all.
Dearest Bob, the 3 Musketee's are together again. May you rest in peace with all the friends you have in Heaven. It is lonely here, but I know I'll see you soon. Sending all my love and 0rayers to your family.May God give them His perfect peace,the peace that passes all human understanding.With love from Brashear family.
I met Bob at the Ascension Military Ministry. He was an amazing character with a huge heart, a wonderful sense of humor and a deep devotion to God, country and family (and those who served). He never ceased to surprise me or make me laugh out loud. The world was a better place because Bob was in it and I'm sure he's rocking out in heaven. Condolences to Bob's family - I know his passing has left a big hole in your lives but how blessed to have known and loved him. Eternal rest grant unto your faithful servant, dear Lord. Thank you for the gift of his life. Let your perpetual light shine upon him and may his soul and all those of the faithfully departed rest in peace.
Bob we were RCA "steely eyed missile workers" on the MTP for a long time and I understand tears when you said what great years they were on your 85th. birthday. W had good years together We had our disagreements and, I often called you 'Mr. intimidation', but we agreed on most situations. I told you you were one of the best at analyzing people I knew. He paid me a great assessment of our relationship by calling me one of his Best Friends. You were one of mine also and you will be missed. We talked about a month ago and we made a date to meet at the East Gate when it was my time . I am looking forward to it. GOD BLESS you Bob and sympathy to you Gail and family.
I shared an office with Bob in "the shops" back the early 1980's. I was a new hire - Mac Peacock put a second desk in Bob's office for me. I don' t think Bob liked it too much. Everyday he would ask me why I was there and asked me what my job was. I wasn't even sure how to answer him:) As time went on, Bob and I became great friends. We each had a bowl of sunflower seeds on our big gray metal desks. We ate them all day long until our lips and fingers were puckered from the salt. Willie, the janitor, would complain each day as he cleaned up the circle of seeds and shells on the floor that circled our desk chairs. Some years ago, Bob and I went to the same church. One Sunday he saw me sitting a few pews in front of him. Instead of getting up and walking up the aisle to speak to me, he stood up on his pew and literally climbed over several pews before sitting down next to me. What a guy he was! After Bob retired he always kept in touch. Sometimes he would stop by my desk and if I wasn't there he would leave me a penny. I always knew who left it:). Sometimes he would call me and pretend he was someone else. He always brought such smile to my face. I loved Bob dearly. He will be missed so much. He left me with many, many fond memories.
Bob and my dad were fishing buddies. That started when they both were working for RCA. They both belonged to the RCA Rod & Reel Club. Bob bought a boat and they went fishing on the Atlantic, a lot. After they were on land they stopped at a place and picked up peanut butter milkshakes. Bob was an awesome bowler. My parents and Bob were on a league in Eau Gallie. He was a hot shot on the lanes. Uncle Bob genuinely liked my brother and me. We had stayed in touch for years. I last saw him 2000/or 01 at an RCA old timers reunion. He arrived on a red Harley Gold Wing. Nothing he did surprised me. We talked on the phone and emailed each other for a while. Then he had a new distraction so that ended. I did get to view the video and pictures from his 90th birthday. He still had his great sense of humor. He always had me in stitches. I loved that man. For those that knew him he will miss him dearly. He was a wonderful soul. RIP Bob
I don't think Bob liked it much when Mac Peacock moved a second desk into Bob's office in the early 1980's. I was a new hire and Bob was somewhat forced to shared his office with me. I don't think he liked me much at first. Just about everyday he would ask me what I was doing there. He kept saying he couldn't figure what my job was , but then again, neither could I:) We each had a large bowl of sunflower seeds on our big gray metal government desks. We would eat them all day long until our fingers and our lips were so puckered from the salt. Willie, the janitor, used to get mad at us because there was always a circle of seeds and shells on the floor around our chairs and he would have to clean them up everyday. Bob and I ended up being the best of friends. We stayed in touch over the years, but never enough. Each time he would stop by my desk he would always leave me a penny. When he called me on the phone he would pretend to be someone else! He was quite the jokester. I attended the same church as Bob, and one Sunday he noticed I was sitting a few pews in front of him. Instead of getting up and walking up the aisle to my pew, he stood up on his pew and literally climbed over several others pews before finally sitting down next to me. He always made me smile. I really loved that guy! He truly will be missed!
Bob was a great guy and was such a joy on the Space Coast Honor Flight. He was also a patriotic gentleman and fun. Prayers for him and his family!
I first met Bob in 1960, at the RCA Timing and Firing shop. We were friends ever since. Bob was a good man, a good friend and I will miss him
Bobbie and I were brother and sister. There's a story behind that, a fun one. Will miss that guy. Lucky to have had lunch with him a few weeks before he left us.
I came from downrange in late 84 to the Shops and Bob was my supervisor. One day i went to him, he was sitting at his desk and i smelled this "smelly feet odor"! I walked away thinking this guy has smelly feet! Later, I found that another guy, Bill Alvord had put lindberger cheese under his desk as a prank! Following seas my friend.
Bob and I go back to the RCA days- when I worked for Roy Bryan, and I think Bob was also my supervisor at one point… it was hard to take him serious cuz he was one of us (techs) that like to work hard and play harder!!! I admired him greatly for not taking life so seriously and having fun every step of the way… I never saw him cry till his 85th Birthday party when he knew how great life was on the range… we are all blessed to have known him. Condolences to the family- he left his mark!
Bob was a true friend! I had the pleasure of knowing him for 63 years. Always a jokester but a compassionate person. We had so many laughs,at work, elsewhere, and over the phone! He had many friends and will be missed by all.