Robert "Bob" Sexton
Short of his 30th birthday, Robert "Bob" Sexton, born June 12, 1991, passed away Friday, April 16, 2021 in his hometown, Melbourne, Florida. Robert attended Roy Allen Elementary, Florida Air Academy, and Melbourne High School, graduating in 2009. He went on to attend Brevard Community College.
In his early years, Robert participated in Scouts, science fairs, Odyssey of the Mind, and the high school swim team- none of which he was particularly passionate about. Rather, he favored the outdoors, laughing with friends, and extreme sports- like rock climbing, four-wheeling, and paintballing with his dad. He worked many summers as a City of Melbourne lifeguard.
As a young adult, Robert figured out his skills far extended beyond Legos and K'nex. He was a good, driven doer and fixer- and his tool collection showed for it. Whether it was a roof in need of a repair, clogged boat engine or other project, Robert enjoyed working on it. More recently, he started a career that allowed him to not only use all of his skills, but expand them. He was a true craftsman.
Of late, Robert spent some of his free time renovating an old Eau Gallie home in which he intended to move into this summer. The to-do list was regularly outside his trained abilities, but Robert leaned-in and figured it out with the help from family and close friends.
In his spare time, Robert enjoyed spending time with family and kicking-back with friends, watching movies, attending concerts, and listening to music of all types. He also had a green thumb and was drawn to succulents. Robert was particularly tickled when he would find air plants growing on land that was going to be developed; knowing the air plants would be destroyed, he would relocate the plants or gift them.
He is survived by his parents, Michael and Karen Sexton, and sister, Samantha; paternal grandparents, Robert and Patsy Sexton; and many aunts, uncles, and cousins. All of these, he loved. His four-legged son, Ford, will forever be his best friend.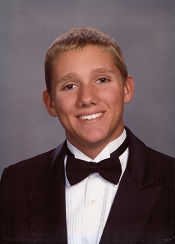 Friends are invited to visit with the family on Monday, April 26, 2021 from 1 p.m. to 3 p.m. at Brownlie-Maxwell Funeral Home, 1010 Palmetto Ave, Melbourne, FL 32901. Visitors will be asked to comply with CDC guidelines and masking policies.
In lieu of flowers, the family invites guests and loved ones to make a contribution to Lake Aurora Christian Camp & Retreat Center in Lake Wales, Florida. Contributions can be made online or by check. If donating online, visit the donation website, click "Yes, I would like to restrict where my gift is used," click "Other-specify in comments," and enter "In memory of Robert Sexton" in the comment field.
If donating by check, contributions should be mailed to:
Lake Aurora Christian Camp
237 Golden Bough Road
Lake Wales, FL 33898
Please include "In memory of Robert Sexton" on the check's memo line.

16 entries.
Karen, Mike and Samantha, You are all in my prayers. My heart breaks for you. My daughters and I have wonderful memories of Robert as a little boy. He was so sweet. His eyes could just look at you abd melt your heart. Elizabeth still remembers eating his lollipop and getting placed in timeout. Robert was her first little crush. May you remember all the joy and happiness he brought to so many. God Bless.
Bob, you are truly missed.. and loved by many, will never forget the endless fun times I'd have plans to come over after school. Expecially the times when i was grounded and only allowed at your house. Haha. Watch down on us all, expecially Ford he needs you spiritually , thanks for always being a great friend!
The very first time I met Robert was in an accident situation. He was calm while we were all freaking out and carried my 200+ lb. Husband to the truck and drove him to the front door and carried him into the house. I always called him "Nurse Robert" after that. God put his hands on his shoulders way too soon. Healing energy to the family.
We will forever miss you bob. Thank you for being a phenomenal friend to us and uncle to our kids.
I had the privilege of tutoring Robert when he was a boy at Roy Allen. Robert was smart, funny, inquisitive and very, very funny. He was quick with a joke, and a smile, and I always enjoyed spending time with him. Robert's family was warm, engaging, supportive and kind. I know how deeply he was loved and how deeply he will be missed. My heartfelt condolences and prayers to Robert's entire family. My heart is broken for his dear mother Karen and father Mike and sister Samantha. Rest in peace in God's loving arms Robert.
Bob was a wonderful young man. We really enjoyed spending time with him and will miss him dearly. I'm so sad I can't attend but unfortunately already have something important scheduled. I will think of him often, as he rehomed and gifted me a beautiful bromeliad a few months ago that is just finishing blooming. I'm keeping Bob, his family, friends and loved ones in my prayers. Darlene & Cameron Norton
My deepest sympathy to Mike, Karen, Samantha and the entire Sexton family. This strong young mans passing makes little sense to those left behind. A devastating event to parents and siblings, profoundly touching family, friends, girlfriends and coworkers. I'm deeply saddened by the loss of this handsome young man, with clear light eyes that shone as brightly as his infectious smile. Bob shared a close relationship with my daughter and through her I learned of Bob's intelligence and ability. Bob was generous to me personally with his time and capabilities in various tasks around my home. Thank you Bob. May you rest in in peace with everlasting life and through Gods grace your family and friends will join you one by one until we're all in paradise together again. God bless you Bob and all of us left behind that miss you. ❤️ Ambra Clerc
God's comfort and peace to Mike, Karen, Samantha and the extended family. Robert was a special gift from God with a smile that lit up the room and self confidence to march to the beat of his own drummer. I'm sure God has great plans for him.
We are so sorry for your loss thinking about you all during this difficult time sending our love & prayers love Carmela,Phil & family
Although I never got to know you as an adult, there is no doubt that you and I would have gotten along great. The face that I will always remember will be the ones I would get yearly at Christmas time. The one of you dressed as an angel was a favorite. You're a favorite angel still. Be in peace Robert ❤️
The one thing I will always remember about Bob is how sweet his smile was. He was a good friend and dad to Ford. That dog could do no wrong. You are deeply missed my many. ❤️
My thoughts and prayers are with all of you love you all
Me and Robert meet at Runaway Country in 2013 or 2014 and it was a amazing night we slow danced we talked about life he was the most respectful and kind person I've ever meet And we started hanging out after that and everytime we hung out he always made me smile And I'll always remember His! I'm Praying For His Family 🙏🏼😞
The first thing Bob ever said to me was "Hola hermosa!" I responded with some random line I learned in Spanish class in 8th grade. He didn't know what to say after that. That was when I realized he totally thought I was Hispanic and he had found his "in" for some awesome tacos. Sorry my curly brown hair lead you to believe my culinary skills were going to much different than what you actually got Bob, but at least I tried and you never complained. 😂 You will forever be missed and always loved. ❤️
One of our favorite pastimes was to drive around for hours with no clear destination or purpose. Just drive. And if you knew Bob, you knew how much he HATED everyone else's music but his own.....even though his taste in music included every genre under the sun. Everytime we would get in the car, the music would be drowned out with Bob throwing a temper tantrum about my music picks. Number one rule of being his friend, YOU ALWAYS KEEP BOB HAPPY. This lead me to avoid the angst and just make Bob his own, special playlist, "Bob's Playlist." If that playlist were an actual record, it would be warped and ruined. Oh Bobert. 🖤 👽
Sending love and prayers for peace to all the Sextons.